Contact Zones. Transnational Encounters, Dialogues and Self-Representation in Contemporary Eastern European Literature, Cinema and Visual Cultures
/28-30 September 2017/
Organizers and Sponsors of the Conference
Eötvös Loránd University, Faculty of Humanities
The Romanian Cultural Institute in Budapest
Space-ing Otherness. Cultural Images of Space, Contact Zones in Contemporary Hungarian and Romanian Film and Literature OTKA Research project NN 112700 contactzones.elte.hu
Ekphrasis Research Centre for Trans-disciplinary Studies (Babeș-Bolyai University, Cluj-Napoca) http://ekphrasisjournal.ro/ http://www.ubbcluj.ro
Other partners include: The Film, Photography and Media Department, Sapientia Hungarian University of Transylvania, Cluj-Napoca, Romania http://film.sapientia.ro/en/
Organizing committee: Mónika Dánél (Eötvös Loránd University, Hungary), Zsolt Gyenge (Moholy-Nagy University of Art and Design Budapest, Hungary), Zsolt Győri (University of Debrecen, Hungary), András Hlavacska (Eötvös Loránd University, Hungary),  Hajnal Király (Eötvös Loránd University, Hungary), Beja Margitházi (Eötvös Loránd University, Hungary), Doru Pop (Babeș-Bolyai University, Romania), László Strausz (Eötvös Loránd University, Hungary), Teri Szűcs (Eötvös Loránd University, Hungary), Balázs Varga (Eötvös Loránd University, Hungary), Eszter Vidosa (Eötvös Loránd University, Hungary)
Conference Locations:
Eötvös Loránd University, Faculty of Humanities
Múzeum krt. Campus
1088 Budapest, Múzeum krt. 4
Thursday, 28 September: Gólyavár
Friday, 29 September: Building A (A épület), Room 329.
Saturday, 30 September: Rooms 34 and 137 (Main Building – Főépület)
Opening Reception: Gólyavár
Film Screening (Friday, 29 September):
Uránia National Film Theatre (Rákóczi út 21, 1088 Budapest)
http://www.urania-nf.hu/about-us
Aliyah Dada (Oana Giurgiu, 2015) 116 min
Director: Oana Giurgiu
Featuring: Tristan Tzara, Marcel Iancu (archive footage)
Music: Sebastian Zsemlye, Alex Dragomir
Prizes: GOPO Prize for the best documentary (2016)
The film presents a well documented history of Jews in Romania. 133 years ago, a small community in Moinești was leaving for the Holy Land, to establish one of the first kibbutzim in Palestine. Since then, the path of Jews towards Israel has been intertwined with the history of modern Romania through a love-hate bond, the influences of which cannot be quantified too soon. The historical tale is visually trimmed in the Dada style as a tribute to the pioneers of this movement, Tristan Tzara and Marcel Janco, two Jews of Romanian descent.
The event is funded by the Romanian Cultural Institute in Budapest: http://www.urania-nf.hu/esemenyek/991/2017/09/29/aliyah-dada-screening-with-panel-discussion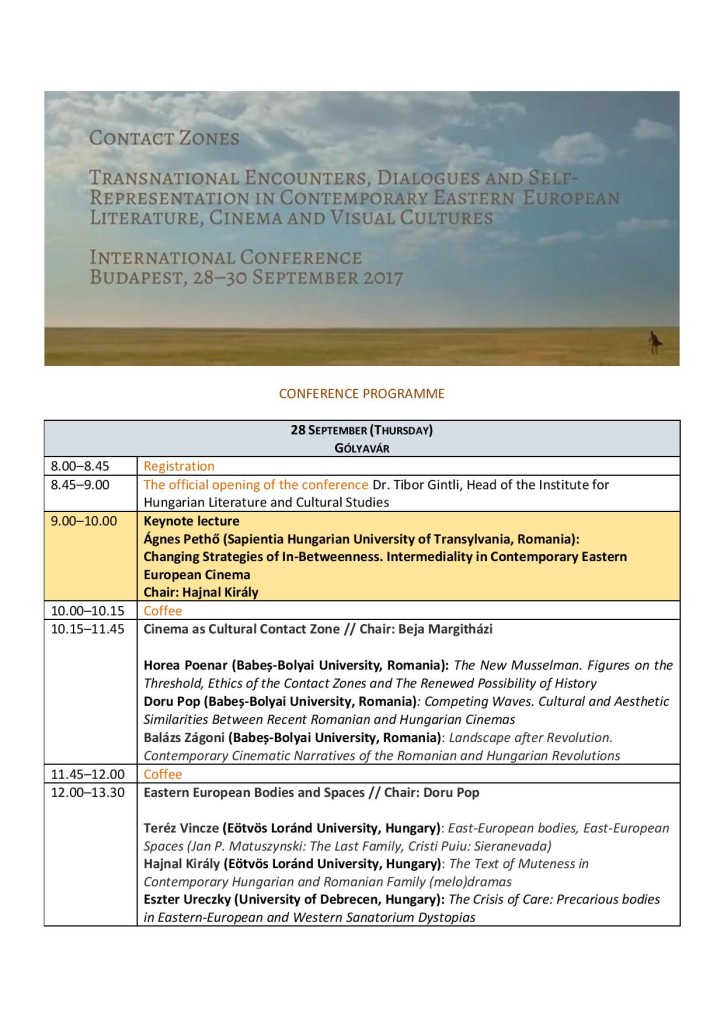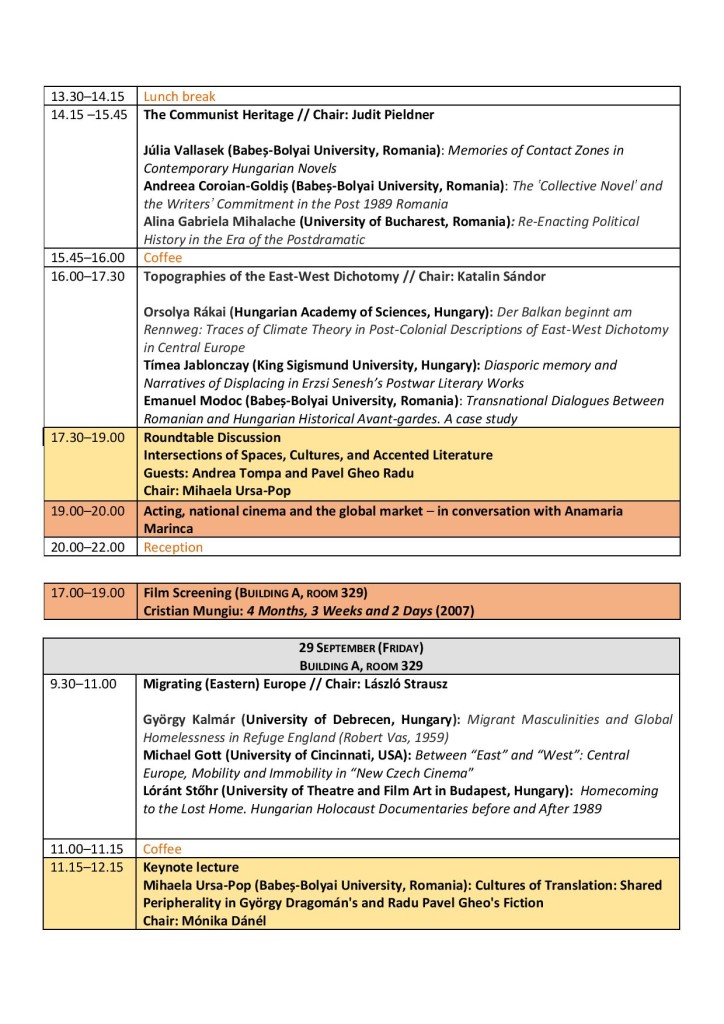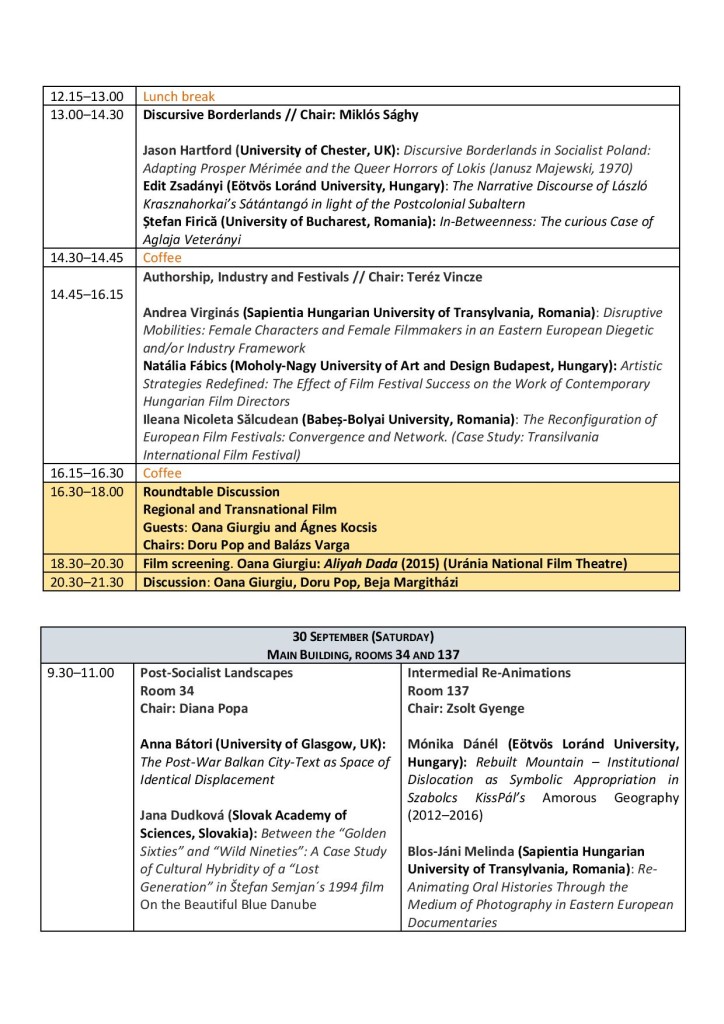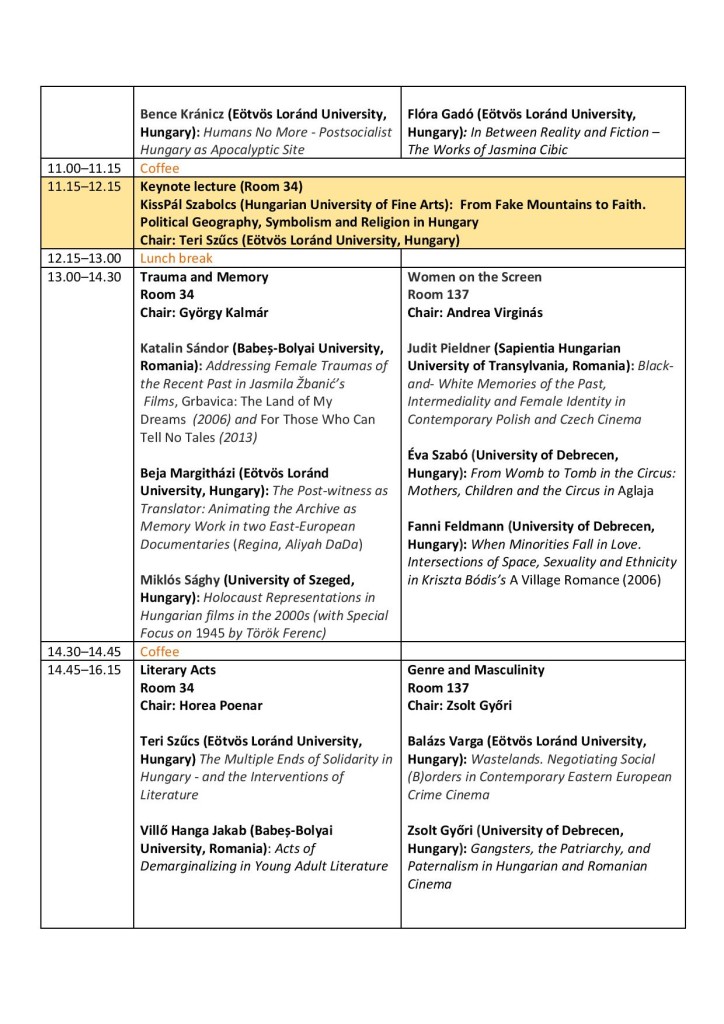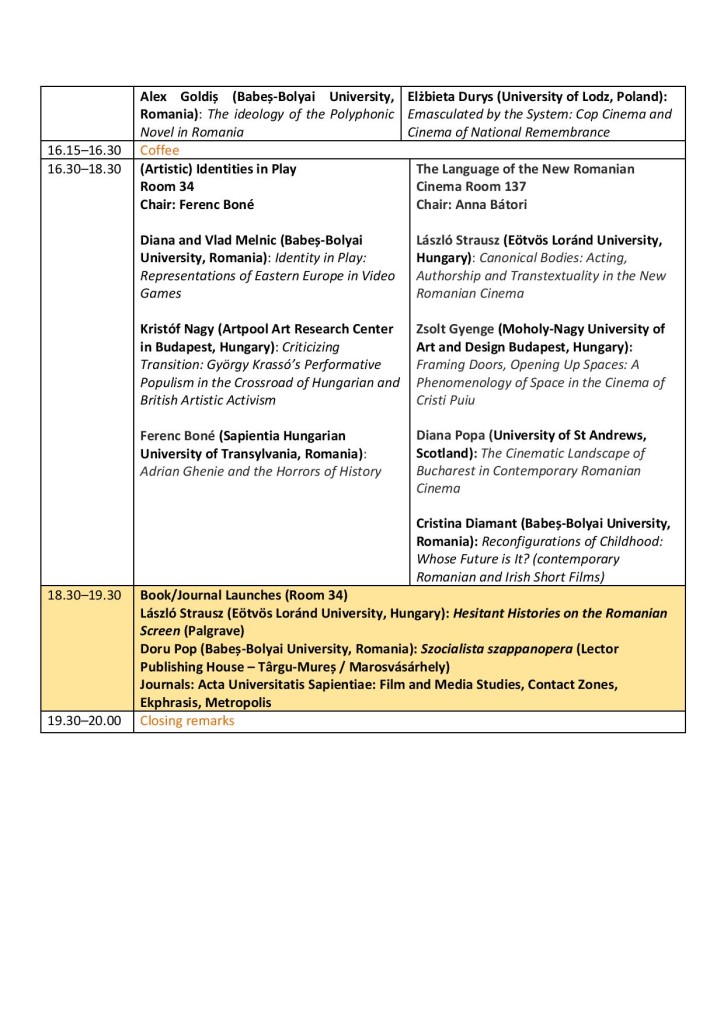 GUESTS
Roundtable discussion – Thursday, 28 September
Andrea TOMPA
Andrea Tompa is a theatre critic and writer born in Cluj-Napoca (Kolozsvár), Romania in 1971. From 1990 she has lived in Budapest, where she graduated at Eötvös Loránd University in Russian Language and Literature. Between 2000 and 2008 she worked at the Hungarian Theatre Museum and Institute and from 2015 she has been the assistant editor of the Színház journal. From 2008 she has taught at the Faculty of Theatre and Television of the Babeş-Bolyai University. Her first novel, The House of the Executioner: Tale from the Golden Age (A hóhér háza. Történetek az aranykorból) was published in 2010, followed by Head to Feet (Fejtől s lábtól. Kettő orvos Erdélyben) in 2013, and Omerta in 2017. She was awarded many prestigious Hungarian literary prizes, among others the Pál Békés Prize (2013), Tibor Déry Prize (2014) and Sándor Márai Prize (2015).
Pavel Gheo RADU
Radu Pavel Gheorghiță was born in Oraviţa, Caraş-Severin County, Romania. He graduated from the West University of Timișoara, Faculty of Letters, in 1994, and holds a Ph.D. in Philology from the same institution (2014). He taught English language for five years in Timişoara, Romania and, later on, in Iași. Between 1999 and 2001 he worked as a radio editor for Radio Iași. Gheo was a member of the Romanian young writers' group CLUB 8 from Iași, together with Constantin Acosmei, Șerban Alexandru, Radu Andriescu, Michael Astner, Emil Brumaru, Mariana Codruţ, Gabriel Horațiu Decuble, Florin Lăzărescu, Dan Lungu, Ovidiu Nimigean, Dan Sociu and Lucian Dan Teodorovici. Afterwards, he lived for a year in the American city of Bellevue, Washington, whence he returned to Timișoara, where he currently lives.
From: https://upclosed.com/people/radu-pavel-gheo/
Roundtable discussion – Friday, 29 September
Oana GIURGIU
Graduate in Journalism and Law, Oana Giurgiu has extensive experience as a producer of television programs, music videos and events as well as organizer of the Transylvania International Film Festival (TIFF). She was the cinematographer of the documentary Doina and Nicolo (1996) and directed TV documentaries: The Spider Web (1997), About Sand (1998), Refugee in Romania (2004), Me Sem Baxtalo… (2008). In 2004 she was location manager at Cristi Puiu's Cannes-award winner film The Death of Mr. Lazarescu and later, produced Tudor Giurgiu's feature debut Love Sick which premiered in Berlinale 2006 and was a box-office success in Romania. Oana was the Romanian production manager on behalf of Libra Film for the Hungarian-German co-production Delta by Kornél Mundruczó which received the Fipresci award at the Cannes Film Festival in 2008. In 2008 she was the Romanian producer participating in Cannes in "Producers on the move" – a project dedicated to European Film Promotion. She co-produced Katalin Varga by Peter Strickland, awarded with Silver Bear for Outstanding Artistic Contribution at the Berlinale in 2009 and with the Best European Discovery prize at the European Film Academy Awards in 2009. Her project as executive producer, The Kino Caravan by Titus Muntean, a co-production with Filmkombinat (Germany) was premiered in Pussan in 2009.
From: https://pro.festivalscope.com/director/giurgiu-oana
Ágnes KOCSIS
Ágnes Kocsis was born in Budapest in 1971. She majored at Eötvös Loránd University in Polish Language and Literature, Aesthetics, and Film Theory, then received a degree in Film Direction from the Academy of Drama and Film in Budapest. Her three short films have been screened at numerous festivals; A vírus (The Virus) shared third prize at the 59th Cannes Film Festival in the "Cinéfondation" section. Her first feature film Friss levegő (Fresh Air) was screened at the same edition of the Cannes Film Festival in "Semaine de la Critique", and was among the 4 films nominated for the Discovery Award of the European Film Academy in 2006. Fresh Air has played at more than 80 international film festivals to date, winning 14 prizes. Pál Adrienn (Adrienn Pál), her second feature film, won the FIPRESCI award at the 63rdCannes Film Festival, in the section "Un Certain Regard". She received the Béla Balázs national award in 2011 for her work in film.
https://pro.festivalscope.com/director/kocsis-agn-s
Anamaria MARINCA
Anamaria Marinca is a Romanian stage and screen actress who has appeared in diverse award-winning television- and film productions such as Sex Traffic (2005) and 4 Months, 3 Weeks and 2 Days (2007). Throughout her career, she has moved effortlessly between authorial films and blockbuster studio productions. Her latest screen appearence was Ghost in the Shell (2017). She currently lives and works in the UK.
ABSTRACTS
KEYNOTE SPEAKERS
ÁGNES PETHŐ
Sapientia Hungarian University of Transylvania, Romania
Changing Strategies of In-Betweenness. Intermediality in Contemporary Eastern European Cinema
In the context of a burgeoning field of intermedial studies of cinema in which talking of "blurred borders", "media trespasses" or "in-betweenness" have not only entered the vocabulary of intermedial analyses but they have also become somewhat blurry figures of speech themselves, often divorced of a specific theoretical background, I consider that we should reassess some of the fundamental notions of intermediality that have emerged in the past decades, and clarify their implications and productivity in scholarly researches. In my presentation I propose therefore to sum up what I perceive as major directions of thought regarding cinematic intermediality from the "border talks" of structural or cognitive semiotics to a rethinking of the idea of "in-betweenness" in recent philosophies of Badiou, Rancière, Agamben or Bellour. Starting from this theoretical overview I will try to evaluate the findings of a recently concluded research project examining the figurations of intermediality in Eastern European and Russian films. Using the example of the Romanian film, Sieranevada, directed by Cristi Puiu in 2016, I will also highlight the way in which intermediality becomes the contact zone of East and West, local and global, realism and artificiality, revealing also some tendencies of change regarding strategies of intermediality in contemporary cinema.
Ágnes Pethő is Professor of Film Studies at the Sapientia Hungarian University of Transylvania in Cluj-Napoca (Romania) where she is currently head of the Department of Film, Photography, and Media. She is also the executive editor of the English language international peer-reviewed journal, Acta Universitatis Sapientiae: Film and Media Studies. Her most important publications include the monograph, Cinema and Intermediality. The Passion for the In-Between (2011), the edited books: Words and Images on the Screen. Language, Literature, Moving Pictures (2008), Film in the Post-Media Age (2012), The Cinema of Sensations (2015) published at Cambridge Scholars Publishing.
MIHAELA URSA
Babeș-Bolyai University, Romania
Cultures of Translation: Shared Peripherality in György Dragomán's​​ and Radu Pavel Gheo's Fiction
As far as contemporary fiction is concerned, the idea of national literature is more than problematic. Are contemporary writers really national writers? Are their topics and approaches specifically national? Is the idiom they use a national, maybe untranslatable, language? In order to explore such questions connecting nationality to translatability, I shall compare two contemporary writers, namely György Dragomán and Radu Pavel Gheo. Apparently, their artistic identities have been shaped by different national ideologies into different mindsets. Still, their fictions, and – to some extent – their biographies, share enough features to speak of a shared community, more specifically of a shared peripherality. In this sense, I contend that their fictions, always telling of entangled histories of individuals and communities, exhibit a sense of belonging to a translational and a transnational culture rather than to national ones.
Mihaela Ursa​ is chair of the Department of Comparative Literature at the Faculty of Letters, Babes-Bolyai University of Cluj. She authored several books on comparatism, critical theory, fictionality, gender studies, and erotic literature, the latest is "Identitate şi excentricitate: Comparatismul românesc între specific local şi globalizare" [Identity and Ex-Centricity: Romanian Comparatism between Local and Global], 2013. Co-author of several collective volumes and of hundreds of articles, studies, reviews, essays published on cultural studies, literary theory and criticism, both as a cultural journalist and as an academic researcher. Editor-in-chief of Metacritic Journal for Comparative Studies and Theory. She was awarded prizes by The Romanian Association of Comparative Literature and The Romanian Association of Writers for her books, and for excellence in academic research by Babes-Bolyai University.
SZABOLCS KISSPÁL
From Fake Mountains to Faith. Political geography, symbolism and religion in Hungary
During my talk the docufiction video Amorous Geography (17 min) will be screened, a work that is part of the research based trilogy-project entitled From Fake Mountains to Faith (2016). In the focus of the project stands the authoritarian 'illiberal' Hungarian state policy and its three parts aim to analyze, describe and translate internationally the anatomy of the actual political and cultural philosophy, which stands as an ideological basis for it. Through several different media and representational techniques a series of problematic and ever changing symbols are revisited that are supposed to create a homogenous and rather oppressive idea of the nation, providing the ideological framework for the new nationalism.The video Amorous Geography analyzes how the political power and will shapes and transforms the geographical space and it deals with the notion of one of the most persistent – though repressed – motif of the Hungarian historical memory: the trauma caused by the Trianon Treaty (1920) which together with the Hungarian Holocaust (1941-45) had a long lasting effect on the development of the Hungarian society by shaping its socio-political structure, defining its cultural positions and fueling its socio-cultural frustrations throughout the twentieth century up to the present times.
Szabolcs KissPál (Marosvásárhely, 1967) lives in Budapest, Hungary. His main field of interest is the intersection of new media, visual arts and social issues. He has been also teaching at various universities in Romania, Slovakia, Germany, and is currently working as assistant professor at the Hungarian University of Fine Arts, Budapest (Intermedia Dpt). His works have been presented at the Venice Biennial, Kunsthalle Budapest, ISCP and Apexart New York, Stedelijk Museum, Seoul International Media Art Biennale, and other venues, and are part of the collections, such as the Ludwig Museum for Contemporary Art, Budapest, Ostrobothnian Museum Vaasa (FIN), Museum of Contemporary Art Bucharest (RO), Paks Collection (HU), Kadist Art Foundation Paris (FR), Muzeum Współczesne Wrocłav (PL). He was recipient of various grants and scholarships (Munkácsy Prize, ISCP New York, Kulturkontakt Austria, Stipendium für Medienkunst am Edith Russ Haus, Stiftung Niedersachsen). Between 2012–2015 he has been actively involved in various activist projects including museum occupations and civil disobedience actions.
BÁTORI Anna
University of Glasgow, UK
The post-war Balkan city-text as space of identical displacement
My paper intends to contribute to the diegetic-contextual investigation of Balkan cinema and scrutinizes three post-communist cityscapes narrated by various cinematic productions from the region. The analysis argues that, despite the physical changes and capitalist transformation that came with the end of socialism, the cities have retained a significant communist-era landscape whose main, ubiquitous symbol is the socialist apartment block. The analysis concentrates on the filmic representation of the so-called microraions, the suburban, local, socialist concrete-districts and intends to find an answer of how the built environment expresses a post-socialist, Balkan identity and how the inhabitants react upon the city-spaces in the selected movies.
The investigation thus focuses on the Balkans' wounded cities (Schneider-Susser, 2003, Dakovic 2012) and scrutinizes the relicts of the communist system in the spatial structure and architecture of Sarajevo, Bucharest and Zagreb while examining the protagonists' positions and movements in the socialist city-landscapes that the characters are placed and locked into, and which functions as a main hallmark of the post-socialist, Balkan national cinemas. The paper argues that through the filmic representation of the city-spaces, diverse identities are created that are all reminiscent of the socialist times and the post-war, transition period. By connecting the protagonists' identities with that of the cities' pre- and post-socialist structure, the analysis intends to depict the way the characters identify themselves with their built environment and become displaced subjects in the vertical sphere of the cities.
References
Ditchev, I. 2005: Communist urbanization and conditional citizenship, in. City: Analysis of Urban Trends, Culture, Theory, Policy, Action. Vol. 9 no. 3
Iordanova, D. 2001. Cinema of Flames. Balkan Film, Culture and the Media. London: British Film Institute.
Iordanova, D. 2001. Migration and Cinematic Process in Post-Cold War Europe. In. Berghahn, D and Sternberg, D; 2001. European Cinema in Motion: Migrant and Diasporic Film in Contemporary Europe. London: Palgrave-Macmiller, pp. 50-76.
Madanipour, Ali, 2003. Public and Private Spaces of the City. New York: Routledge,
Anna Batori completed her doctoral degree in Film and Television Studies at the University of Glasgow in 2016. With primary focus on Eastern European cinema, her research covers the post-socialist cinematic corpus and the socialist environment's representation in post-transition films. Her primary academic interest lies in revealing the diverse power structures within Eastern European moving images that explicitly or implicitly refer to the oppression of individuals. Batori is also affiliated with various Eastern European and film research groups and is a regular contributor working for Eastern European Bulletin.
BONÉ Ferenc
Sapientia Hungarian University of Transylvania, Romania
Adrian Ghenie and the Horrors of History
To speak of history's horrors is to recognize events as wounds. This is what Adam Lowenstein suggested in his 2005 book about the representation of historical trauma. Back in his 1981 study on Francis Bacon and painterly defiguration, Gilles Deleuze established the body as an objective zone of indiscernibility. The body, for Deleuze, was irreducible to any fixed form or identity; it enveloped the differences of level, the plurality of the constituting domains. Deleuze's idea that the body is a constantly surging flux of self-differentiating energy obviously had a potent social content, a political agenda, and a strong historicity. History is also at the core of the bodily deformations painted by contemporary Romanian artist Adrian Ghenie. But while Bacon's paintings were mostly about the spasms and sensations of the living body, Ghenie's bodies are on their way of becoming the corpse. Physical deformation and trauma here act rather as the transfigured face of nature, or, as Walter Benjamin would have put it in his 1928 text on the origins of the mourning play, they reveal the facies hippocratica of history. Benjamin designated this mode of revelation as allegorical, where meaning is conceptualized as a state of transformation between the dead corpse (the falsely redemptive face of history) and the living body (the mirage of the unified individual identity).
References
Benjamin, Walter: The Origin of German Tragic Drama. London–New York, Verso, 2003.
Deleuze, Gilles: Francis Bacon: The Logic of Sensation. London–New York, Continuum, 2003.
Lowenstein, Adam: Shocking Representation: Historical Trauma, National Cinema, and the Modern Horror Film. New York, Columbia University Press, 2005.
Ferenc Boné, after completing his studies in Philosophy, enrolled for the postgraduate course of Aesthetics at the Eötvös Loránd University, Budapest, Hungary. Presenter at a number of art events and conferences around the world, author of articles in various periodicals and volumes (some put in print by the Cambridge Scholars Publishing), for the past few years he was a colleague of the Department of Media of the Sapientia Hungarian University of Transylvania.
BLOS-JÁNI Melinda
Sapientia Hungarian University of Transylvania, Romania
Re-Animating Oral Histories Through the Medium of Photography in Eastern European Documentaries
The contemporary post-media landscape seems to have an unprecedented capacity to repurpose pre-existing representations and reimagine media. In this medial constellation even history is being made and remade in images, thus archival images and found footage films became one of the common source materials, or a generic template to rethink or narrate past events. History itself became "something to be shown before narrated" (Ruchel Stockmans 2015. 41, referring to Bann 1998). The ubiquity of historical practices and historical spectacles had turned history into a democratic practice, and "the new post-historical reign of the technical image" (Ruchel Stockmans 2015. 40) creates an opportunity to escape the linear historical mode of thinking inherited from Hegel. In this new "metallurgy of images" (Pisters 2016) first person narratives and home made images became powerful political tools, became methods of reclaiming collective memory or history.
This presentation will focus on Romanian documentaries that recontextualise archival photographs in highly artificial enivornments. In films like Shriek into the Ear-Drum (Alexandru Solomon, Radu Igazsag, 1993), Aliyah DADA (Oana Giurgiu, 2014) or I Made You, I Killed You (Alexandru Petru Badelită, 2016) photographs are embedded in an avant-garde montage, while films like Crulic and Magic Mountain (Anca Damian, 2011 and 2015) use photographs as fragments of the figurative real, dispersed in highly abstract, contemplative landscapes foregrounding the haptic quality of the paint and the canvas. These documentaries open up new possibilities for the medium of photography, redefining the complex relationship between photography and history, or the indexical trace and history in general. Departing from the question of indexicality of the photographic image in the post media age, attention will be given to the ways in which the medium of photography is performed within these cinematic collages. What role does the materiality of the photographic medium play in representing the past cinematically? In the films in question the amalgamation of photographs and abstract animation support highly subjective, first person accounts. The presentation will explore the relationship between narrative context and intermedial compositions that trigger highly sensorial viewing experiences.
References
Gunning, Tom. 2004. What's the Point of an Index? Or, Faking Photographs. Nordicom Review, 1–2, 39–49.
Gunning, Tom. 2007. Moving Away from the Index: Cinema and the Impression of Reality. Differences, 18 (1), 29–52.
Annabelle Honness Roe: Animated Realities. Palgrave Macmillan, 2013.
Didi-Huberman, Georges. 2008. Images in Spite of All. Four Photographs from Auschwitz. Chicago: University of Chicago Press.
Rodowick David N.. 2007. The Virtual Life of Film. Harvard University Press.
Ruchel–Stockmans, Katarzyna. 2015. Images Performing History: Photography and Representations of the Past in European Art After 1989. Leuven: Leuven University Press.
Sjöberg, Patrik. 2001. The World in Pieces. A Study of Compilation Film. Stockholm: Aura Forlag.
Melinda Blos-Jáni is Assistant Professor of film studies at the Film, Photography and Media Department of Sapientia Hungarian University of Transylvania. Her research interests are home videos and amateur films, autobiographical documentaries, silent film history, contemporary silent films, media genealogy. She earned her Ph.D. degree with the thesis The Domestication of Moving Image Technologies and Media Practices in Familial Contexts: an Anthropological Research. She is currently a member in the research project entitled Re-mediated Images as Figurations of Intermediality and Post-Mediality in Central and East European Cinema led by Ágnes Pethő (Sapientia University, Cluj-Napoca). Webpage: http://film.sapientia.ro/en/staff/dr-melinda-blos-jani.
Coroian-Goldiș, Andreea
Babeș-Bolyai University, Romania
The ʽCollective Novel' and the Writers' Commitment in the post 1989 Romania
In the process of illustrating reality, contemporary fiction competes other media forms of expression. Consecquently, the past years witness the emergence of theoretical accounts concerned with issues regarding the frontiers of fiction (Lang:2011), the possibilities of uttering truth in literature (François Flauhault, Nathalie Heinrich), incorporating values and ethics (Astrid Erll, Vincent Jouve) or the writers' commitment (Elisa Bricco, Sonya Florey). The paper investigates writers's social enrollment in the Romanian post 1989 context. In this respect, we will explore the hypothesis of a collective novel (Astrid Erll), which seeks to exploit major topics on the agenda of public debate. Under scrutiny in the analysis of contemporary Romanian novels (Dan Lungu or Adrian Schiop) are the methods of evaluating reality and the fictionalization of contemporary dilemmas, together with the author's strategies of building a public image that would enforce the social values encrypted in the literary work.
References
Lang, Luc, Délit de fiction. La littérature pourquoi, Ed. Gallimard, 2011;
Florey, Sonya, L'engagement littéraire à l'ère néolibérale, Ed. Presses Universitaires du Septentrion, 2013;
Erll, Astrid, Ethics in Culture: the Dissemination of Values through Literature and Other Media, Ed. Walter de Gruyter GmbH & Co, 2008;
Andreea Coroian-Goldiş is a Phd student at the Faculty of Letters, Babeș-Bolyai University, Cluj-Napoca. She has published 8 scholarly articles in peer reviewed journals and a number of literary reviews. Her research interests include cognitive approaches to literature, French contemporary fiction, autofiction and the history of Romanian literature.
DÁNÉL Mónika
Eötvös Loránd University, Hungary
Rebuilt Mountain – Institutional Dislocation as Symbolic Appropriation in Szabolcs KissPál's Amorous Geography (2012–2016)
Szabolcs KissPál's docu-fiction video is part of his 2015–2016 project entitled "From Fake Mountains to Faith (Hungarian Trilogy)". The exhibition project consists of two docu-fiction videos (Amorous Geography, The Rise of the Fallen Feather) and an installation of a fictitious museum setting (The Chasm Records). According to Bernhard Siegert, "there is no space independent from cultural techniques of ruling spaces" (Siegert 2011, 15). Szabolcs KissPál's docu-fiction reflects on the cultural, ideological techniques and media conditions of historical and contemporary representations of space. His project focuses on the 1909–1912 rebuilding of the Transylvanian Great Rock (Egyes-kő/Piatra Singuratică) mountain in the Budapest Zoo. According to Zoltán Kékesi, this rebuilding situates "the architecture and the ethnographic space of the Budapest Zoo, as well as the Transylvania-discourse after Trianon within the long European (colonial) history of the objectification of the Other" (Kékesi 2012, 62). The video can be interpreted as a visual archaeology of the layered visions projected onto the geographical space. Reflecting on the mediatedness and the ideological background of the projections, the video becomes a surrogate (common) place for contradictory, non-interlocking projections, for conflicting ideological discourses, for archive footages and fictive representations. This results in an artwork "oscillating between historical and poetic truth" (András 2016, 200). In my presentation I focus on media transformations, as well as on the way the video redraws and maps the emotional and atmospheric space constituted of conscious and unconscious layers and imaginations related to the Trianon-discourse. I argue that this work can be seen as an artistic re-enactment because it enables the reflexive and emotional immersion of the viewer, and instead of an accurate reconstruction, it creates an emotional and somatic place for experiencing history.
References
András Edit. 2016. Homage to the half-truth. Renationalization and artistic imagination in Hungary: a case study In Former West: Art and the Contemporary After 1989, eds. Maria Hlavajova –Simon Sheikh, 191–202. Utrecht – Cambridge: BAK – MIT Press.
Feischmidt Margit. 2005. A magyar nacionalizmus autenticitás-diskurzusainak szimbolikus térfoglalása Erdélyben. In Erdély-(de)konstrukciók. Tanulmányok, ed. Feischmidt Margit, 7–32. Budapest–Pécs: Néprajzi Múzeum–PTI Kommunikáció- és Médiatudományi Tanszék.
Kékesi Zoltán. 2012. Kicsiny hasonmásaink. KissPál Szabolcs: Szerelmes műföldrajz (etnozoo). Magyar Lettre Internationale 86: 62.
Keményfi Róbert. 2002. Az "etnikai táj"kultúrnemzeti mítosza.  Regio 13. 4: 93–108.
Siegert, Bernhard. 2011. The Map is the Territory. Radical Philosophy, Dossier: What is German Media Philosophy? Sept/Oct: 13–16.
Mónika Dánél is Assistant Professor at Eötvös Loránd University, Budapest. She is currently leader of the project "Space-ing Otherness. Cultural Images of Space, Contact Zones in Contemporary Hungarian and Romanian Film and Literature". Her research is on the codes of intimacy and publicity in post-communist cultures. In 2015 she was granted the János Bolyai Research Scholarship for three years. She co-edited the volume Event-Trauma-Publicity (2012) and authored two volumes in Hungarian language: Transparent Frames: The Intimacy of Reading (2013) and Language-Carnival: The Poetics of Hungarian Neo-Avant-Garde Artworks (2016).
Diamant, Cristina
Babeș-Bolyai University, Romania
Reconfigurations of Childhood: Whose Future is it?
Representations of childhood, especially during times of social unrest that call into question the constructedness of national identity, become the space where tensions within the community play out in an emerging understanding of one's legacy. With immigration into Western countries on the rise, how are children in Romania and Ireland to refashion their sense of belonging? In an increasingly glocalised world, what kind of legacy do the children of ethnic minorities such as the Romanian gypsies and the Irish Travellers represent? An analysis of recent Romanian short films such as Șanțul (2012, Adrian Silișteanu) and Calea Dunării (2013, Sabin Dorohoi), as well as Irish short films such as New Boy (2007, Steph Green) and Breathe (2015, James Doherty) is in order, in an attempt to problematise reterritorialising practices of two countries united by a shared anxiety towards their post-national future which is in stark contrast with traditional rural and religious community images.
References
Celli, Carlo. National Identities in Global Cinema. How Movies Explain the World. Palgrave Macmillan: New York, 2011.
Martin-Jones, David. Deleuze, Cinema, and National Identity, Narrative Time in National Contexts. Edinburgh University Press: Edinburgh, 2006.
Cristina Diamant is a PhD student in English Literature at the Faculty of Letters, Babeș-Bolyai University, Cluj-Napoca. She is assistant editor of the Metacritic Journal for Comparative Studies and Theory and member of the Ekphrasis Research Centre for Transdisciplinary Studies. Her research interests are literary and cultural theory, linguistics, visual arts, and pop culture, especially in the context of investigating various representations of otherness.
DUDKOVÁ, Jana, PhD.
Slovakian Academy of Sciences, Slovakia
Between the "Golden Sixties" and "Wild Nineties": A Case Study of Cultural Hybridity of a "Lost Generation" in Štefan Semjan´s 1994 film On the Beautiful Blue Danube
The aim of the paper is to show how imagining of the West in Slovak cinema of 1990s led to various kinds of engagement with cultural hybridity and translation. In order to do so, I want to skip the artistically well-balanced and expected examples, and analyze the intertextual dialogue in one of the "condemned" debuts of the transformational era of 1990s. Labelled by the authors of The History of Slovak Cinema as one of the worst films of 1990s, On the Beautiful Blue Danube is, despite its wild amateurism, still an inspiring case of engagement with both critically well acclaimed Martin Šulík´s early works on dialogue with Europe, the Slovak New Wave and its fascination with foolishness and game, European counterculture of sixties, Andy Warhol´s popism and even Jim Jarmusch´s films of 1980s. As such, it points out some important parallels between Eastern-European transitional cinemas of early 1990s, and some anti-imperialistic strategies of cultural translation and modernism such as mimicry, "cannibalistic" digestion and exploitation of imported cultural influences and products, or recyclation. I would also tackle upon the film´s paradoxical conservativism in visual conception, which prevents it from being truly revolutionary.
References
Bhabha, Homi K. The Location of Culture. London – New York: Routledge, 1994.
Stam, Robert. Tropical Multiculturalism. A Comparative History of Race in Brazilian Cinema and Culture. Durham and London: Duke University Press, 1997.
Silverman, Kaja. The Threshold of the Visible World. London – New York : Routledge, 1996.
Doc. Jana Dudková, PhD. is a Senior Researcher at the Institute of Theatre and Film Research, Slovak Academy of Sciences in Bratislava. Her main research interests include postcolonial and muticultural studies, balkanism and transcultural influences in Slovak and Balkan cinemas. She is the author of numerous papers published in various languages and of 3 monographs in Slovak: Slovak Cinema in the Era of Transculturality (Slovenský film v ére transkulturality, 2011), The Balkans or a Metaphor: Balkanism and Serbian Cinema of 1990s (Balkán alebo metafora: balkanizmus a srbský film 90. rokov, 2008), and Lines, Circles and Worlds of Emir Kusturica (Línie, kruhy a svety Emira Kusturicu, 2001). She has also worked as an Associate Professor at Charles University in Prague (2013) and as an Assistant Professor at the Film and Television Faculty of the Academy of Performing Arts in Bratislava (2001-2011). Currently she is leading a project on the institutional and aesthetic history of Slovak cinema after 1989 (in a cooperation with the Academy of Performing Arts in Bratislava).
DURYS, Elżbieta, Prof.
University of Lodz, Poland
Emasculated by the System: Cop Cinema and Cinema of National Remembrance
The main subject of Cinema of National Remembrance (CNR) – one of the most visible strand in contemporary Polish cinema – is the need to cultivate the memory of enslavement of the nation during the World War II and the communist period. It serves to uphold the Polish national identity founded on both the sacrificial myth and pride of independence struggle. The discourse combining gender and nation is employed in this context. Through the issue of masculinity the story of enslavement but also of (re)construction of Polish nation is being told. Recently American crime cinema conventions were introduced to enrich and diversify the CNR. I'm a Killer by Maciej Pieprzyca (2016) may serve as an interesting example in this regard. In my presentation I would like to focus on how Pieprzyca uses the codes and conventions of cop cinema with serial killer to tell the story of Polish men enslaved by the communist system.
References
Nagel Joane, Masculinity and Nationalism, Ethnic and Racial Studies, Vol. 21, No. 2 (March 1998), pp. 242—269.
Graff Agnieszka, Świat bez kobiet. Płeć w polskim życiu publicznym, Wydawnictwo W.A.B., Warszawa 2011 (2001).
Mosse George L., The Image of Man. The Creation of Modern Masculinity, Oxford University PressOxford, New York 1998.
Durys Elżbieta. Amerykańskie popularne kino policyjne w latach 1970–2000. Łódź: Wydawnictwo Uniwersytetu Łódzkiego, Wydawnictwo PWSFTViT, 2013.
Prof. Elżbieta Durys is an Associate Professor at the University of Lodz (Poland). Her research interest focus on American and Polish cinema, film and gender issues, genre theory and methods and approaches to contemporary cinema. She is the author of numerous articles on film that have appeared in journals and anthologies. She coedited two volumes on American Cinema (2006, 2007) and two volumes on gender issues (2005, 2014). She published two books: in 2009 the analysis of John Cassavetes oeuvre (Just a Little Problem That Came Up… The Works of John Cassavetes [in Polish]) and in 2013 the monograph of American police movies titled American Cop Cinema 1970—2000 (also in Polish). She was a Fulbright Senior Research Scholar at the Department of Radio-Television-Film, University of Texas at Austin during the academic year 2009–2010. She holds her Ph.D. in literature (2002) and habilitation in cultural studies (2014).
FÁBICS Natália
Moholy-Nagy University of Art and Design, Hungary
Artistic Strategies Redefined: The Effect of Film Festival Success on the Work of Contemporary Hungarian Film Directors
Ever since international film festivals have been organised, but even more so since the end of the eighties, beginning of the nineties, success in the film festival circuit has been playing an increasingly important role in the career of film directors. Especially for filmmakers arriving from smaller film producing nations, like Hungary, successful film festival participation can be vital. It does not only effect the marketing and promotional strategies, activities related to any given film, but have a significant impact on the artistic strategies of film directors as well, creating a new kind of cinema that mixes different cultural traditions, filmmaking practices, relies heavily on intertexts and intermediality, and so on, resulting in films that are global and local at the same time, and talk about topics defined important by Western Europe.
References
De Valck, Marijke – Kredell, Brendan – Loist, Skadi (eds.): Film Festivals: History, Theory, Method, Practice. New York: Routledge. 2016.
Elsaesser, Thomas: European Cinema: Face to Face with Hollywood. Amsterdam: Amsterdam University Press. 2005.
Iordanova, Dina – Cheung, Ruby (eds.): Film Festival Yearbook 1: The Festival Circuit, St. Andrews, UK: St. Andrews Film Studies, 2009.
Natália Fábics is a film historian and has been a lecturer at the Media Institute of MOME since 2011. In her research she specialises in film festival studies and contemporary global cinema from an intercultural studies perspective. She has finished her studies at the Film, Media and Contemporary Culture PhD program of ELTE (Budapest), and is currently working on her dissertation: The Perception of Contemporary East Asian Cinema at European and North American Film Festivals and in Art-house Cinemas. Previously and in parallel with teaching, she has been a communication and media consultant since 1996, recently focusing on cultural communication.
FELDMANN Fanni
University of Debrecen, Hungary
When Minorities Fall in Love – Intersections of Space, Sexuality and Ethnicity in Kriszta Bódis's A Village Romance (2006)
Kriszta Bódis's documentary is the chronicle of a love story in an almost hermetically separated environment: a tiny village in the middle of nowhere. This closed space is an intersection of various difficulties: the "natives" have to face not only the decaying countryside, but the clashes resulting from the cohabitation of different ethnic minorities. The tensions are brought forward by the arrival of urban lesbian women, but as long as isolation remains intact, cohabitation is possible. However, when a Roma and an urban lesbian woman attempt a different form of cohabitation – instead of living side by side, they try living together –, their initiation results in the surfacing of repressed conflicts. Their love story can be interpreted as a mise-en-abyme of othering strategies in Hungarian society, be that the marginalisation of ethnic or sexual minorities. The complex system of conflicts represents marginalising strategies of the majority as well as mechanisms by which marginalised groups pass on their othered position to groups assumed to be "more marginal" than themselves.
References
Csurgó Bernadett. VIdéken lakni és vidéken élni. Argumentum: Budapest, 2013.
Murai András and Tóth Eszter Zsófia. "Női szerelmek a filmvásznon a rendszerváltás előtt és után." Takács Judit ed. Homofóbia Magyarországon. L'Hartman: Budapest, 2011. 69-79.
Sághy Miklós. "Civilizáció és barbárság határvidéke a kortárs magyar filmben." Filmvilág, 2015.10, 15-18.
Fanni Feldmann, Ph. D. student of the Doctoral School of Literature at the University of Debrecen, does research on the representation of sexual and gender identities in literature and film, primarily in Eastern European cinema. Her main interests are the psychological process of coming out, its visual representations and its interconnectedness with cultural, social and political contexts. She presented at Hungarian and international conferences, and she edited a volume of young researchers' essays in the Hatvani István Extramural College titled (En)Gendered Lives (2016).
Firică, Ștefan
University of Bucharest, Romania
In-Betweenness: The Curious Case of Aglaja Veteranyi
Ever since the publication of her few books (such as Warum das Kind in der Polenta kocht, 1999, and Das Regal der letzten Atemzüge, 2002), Aglaja Veteranyi  seemed to fall in between the classical divisions of literary systems. As a multingual (with a Hungarian-Romanian heritage, performing in Switzerland as a circus entertainer, writing in German), she was widely regarded as a representative of migrant literature in Romanian, Swiss, or German cultures as well, i.e., an epitome of marginality. Her texts were described as fiction, autobiography, or poetry, given their mixture of elements pertaining to each of these genres. Moreover, they were adapted into several pieces of pop culture (film, music album, plays), which helped turn Aglaja  into an icon of transgressive art, able to showcase some of the encounters specific for today's societies: individual vs. authority, migrant vs. native, citizen vs. non-citizen,"West" vs. "East", male vs. female (encounters undermined by superiority / inferiority complexes, scars, guilt, etc.). Giving a feeling of freshness and vulnerability, Aglaja has become a compelling figure of transition of our times (between "high" an "low", between cultures and arts).
References
Cordoș, Sanda, 2012, Lumi din cuvinte. Reprezentări și identități în literatura română postbelică [Worlds of Words. Representations and Identities in the Postwar Romanian Literature], București, Editura Cartea Românească
Deleuze, Gilles, Félix Guattari, 1983, 'What is a Minor Literature?' Translated by Robert Brinkley. Mississippi Review, no. 33, 1983, p. 13-33
Foster, Leonard, 1974, Dichten in fremden Sprachen. Vielsprachigkeit in der Literatur, München, Francke
Manolescu, Nicolae, 2008, Istoria critică a literaturii române. 5 secole de literatură, București, Editura Paralela 45
Stallybrass, Peter, Allon White, 1986, The Politics and Poetics of Transgression, Ithaca New York, Cornell University Press
Ștefan Firică is an assistant Ph.D. at the Faculty of Letters, University of Bucharest, teaching seminars and lectures on the history of Romanian literature. He authored a book on (De)Constructing Identities in the Interwar Romanian Literature, tens of articles in scientific magazines and collective volumes, tens of articles  in Romanian cultural magazines on various topics, such as literature, film, dance, education, etc. He took part in postdoctoral mobility programs in Rome and Paris, participated in international conferences, colloquia, workshops in Amherst Massachussetts, Prague, Krakow, as well as in many university centres in Romania.
GADÓ Flóra
Eötvös Loránd University, Hungary
In Between Reality and Fiction – The Works of Jasmina Cibic
In this presentation I will focus on the Spielraum series by Jasmina Cibic, in which the Slovenian artist deals with the notions of national identity in relation to art and architecture in former Yugoslavia. In her films, Cibic uses the strategy of re-enactment in order to revisit past events and debates, from which she tries to understand how national representation was constructed and what effect it can cause in the present. Furthermore, in these works the artist mixes together different archive documents and creates from them a new, yet comprehensible narrative. My main interest lies in the process and effect of how reality and fiction becomes interwoven in her works, and what kind of new perspective could be presented from this often "confusing" material. Through this constant shift between fact and fiction, an emphasis on the absurdity and the already fictive aspect of the language of politics could be placed.
References
Rendell, Jane: Staging Devices – Setting the Scene for What Might Have Been, published in the catalogue: For Our Economy and Culture, Pavilion of Slovenia at 55th International Art Exhibition La Biennale di Venezia, May 2013
Cibic, Jasmina: How (Not) to Shame a Name, in.: On Productive Shame, Reconciliation, and Agency, ed.: Suzana Milevska, Publication Series of the Univerity of Fine Arts Vienna, Sternberg Press, Berlin 2015
Vesic, Jelena: Politics of Display and Troubles with National Representation in Contemporary Art, Red Thread / Issue 1, http://www.red-thread.org/en/article.asp?a=22 [2017.05.30]
Gordana Nikolić, Sanja Kojić Mladenov: Archive + Power. Performing the Archive in Art in.: Performing the Museum – The Reader, ed.: Aleksandra Sekulić and Dušan Grlja, Novi Sad: Museum of Contemporary Art Vojvodina, Belgrad 2016
Flóra Gadó is a freelance curator and Ph.D. student based in Budapest. She graduated in 2015 from Eötvös Loránd University with an MA in Art Theory. Currently, she is enrolled in the faculty's Ph.D. program in Film, Media and Cultural Theory. Her research topic is the strategy of artistic re-enactments in contemporary art, focusing on Central-Eastern Europe. She curated several exhibitions for example in the Studio Gallery, 2B Gallery and Labor. In 2014-15 she was part of the organizing team of OFF-Biennale Budapest and since 2016 she is the member of the research group Open Museum, which focuses on participatory and collaborative practices in museums.
GOLDIȘ, Alex
Babeș-Bolyai University, Romania
The ideology of the Polyphonic Novel in Romania
Under communist regimes, the harsh ideological interdictions led to the homogenisation of the literary phenomena. However, with the first signs of de-Stalinization, when the relationships between politics and culture become complex, this totalising image starts to fade. With each revision of the functioning rules of the political system, literature – seen as an appendix to political propaganda – undergoes important transformations. The first symptoms of the Thaw saw the rediscovery of the polyphonic novel, as consecrated by Mikhail Bakhtin in Problems of Dostoevsky's Art (1929). The ideology of the ʽpolyphonic novel' presumes that reality is replaced by a multitude of perspectives that favour the free play of interpretation. Without being political in itself, this technique of narration represented an important device for the corrosion of the ideological wholeness of the socialist realist novel. This lack of ideological commitment on the part of the author creates the premises for the infiltration of the subversive content. The fact that in the period of stagnation the narrator no longer sided with the viewpoint of the officials represents an ideological revolution whose effects on the diversification of prose writing under communism have not been adequately investigated.
References
Brandist, Craig. Carnival Culture and the Soviet Modernist Novel. London: Macmillan Press LTD, 1996.
Jouve, Vincent. Poétique des valeurs. Paris: Presses Universitaires de France, 2001.
Alex Goldiş is Assistant Professor at the Babeș-Bolyai University and editor-in-chief of the Metacritic Journal for Comparative Studies and Theory. He is the author of the volumes Criticism Entrenched. From the Realist Socialism to the Autonomy of the Aesthetic (2011) and Western Synchronization in Postwar Romanian Literary Criticism in the 1970s and 1980s (2013) and has published approximately 30 scholarly articles in peer-reviewed journals and 300 literary reviews. His research interests are history of East-Central European literatures, literature under totalitarian regimes, World Literature studies.
GOTT, Michael
University of Cincinnati, USA
Between "East" and "West": Central Europe, Mobility and Immobility in "New Czech Cinema"
There are relatively few examples of travel cinema that were made in the first 15 years after Communism that presented Czech travellers attempting to take advantage of their newfound mobility with a good deal of trepidation and varied degrees of success (Gott, Hanáková). However since their nation joined the EU in 2004 Czechs have hit the road in increasing number for work, study, pilgrimages, holidays, and to migrate. This presentation will provide a very brief overview of trends in post-1989 Central European travel and road cinema before considering in more depth a selection of films that can be situated within what some critics have labelled the "New Czech Cinema" (beginning in 2011) that explore the uncertain and shifting places of Czechs within contemporary Europe.
This presentation aims to situate the films within the particular social, historical, and economic contexts the Czech Republic in order to assess how the relative freedom of mobility offered to Czechs following Czech membership in the EU is mitigated or countered by expressions of Czech's continuing "otherness" vis-à-vis the West and, simultaneously, their perceived superiority over the "East." I will consider how Czech cinema maps the nation as a liminal space between Western and Eastern Europe through the tropes of mobility and immobility. To do so I will analyse examples of eastbound, westbound, and internal travel and other symbols of mobility in a selection of films that include Rodina je základ státu/Long live the Family (Robert Sedláček, Czech Republic, 2011), Cesta Ven/The Way Out (Petr Vaclav, Czech Republic/France, 2014), Rodinny film/Family Film (Olmo Omerzu, Czech Republic/Germany /France/Slovakia, 2015 and Road-Movie (Martin Jelínek, 2015). Examined together these films explore new dynamics of space (local/national/transnational/Europe) experienced by Czechs. This specific analysis will be briefly compared and contrasted with other Central and Eastern European situations.
References
Gott, Michael. "Borderless possibilities, hesitant voyagers: Mapping identity in three post-1989 Czech road movies," Studies in Eastern European Cinema, 3:1, 2012.
Hanáková, Petra. "Staying Home and Safe: Czech Cinema and the Refusal to Be Transnational," in European Cinema after the Wall. Screening East-West Mobility, edited by Leen Engelen and Kris Van Heuckelom. Lanham etc.: Rowman & Littlefield, 2013.
Pedersen, Sune Bechmann. "Treading New Paths: Czech and German Postcommunist Road Movies," in Postcommunist Film – Russia, Eastern Europe and World Culture, edited by Lars Kristensen.  New York: Routledge, 2012.
Michael Gott is Assistant Professor of Film and Media Studies and French at the University of Cincinnati. His monograph French-language Road Cinema: Borders, Diasporas, Migration and "New Europe", was published by Edinburgh University Press in 2016. He also recently co-edited Open Roads, Closed Borders: the Contemporary French-Language Road Movie (Intellect, 2013) and East, West and Centre: Reframing European Cinema Since 1989 (EUP, 2014) and has published articles and book chapters on French, Czech, Belgian, African, and European cinema.
GYENGE Zsolt
Moholy-Nagy University of Budapest, Hungary
Framing Doors, Opening Up Spaces: A Phenomenology of Space in the Cinema of Cristi Puiu
Phenomenological film analysis approaches film and viewer as acting together in an embodied experience, and advocates for the primacy of perception in the analysis of cinema. The paper will examine the work of Romanian director Cristi Puiu from the perspective of film phenomenology. The goal of this talk is to use film phenomenology's take on the perceptual experience of space in cinema to analyze and interpret Cristi Puiu's cinema. The starting point of the argument will be, that contrary to some reviewers and scholars, the specific perceptual experience constructed by the Romanian director is neither intended to create a perfect illusion of immediate realism, nor destined to self-reflexively uncover the "limited possibilities of the perceptual act" (Filimon, 2014, p. 181) and thus to direct our attention towards the presence and importance of the author (Filimon, 2017, pp. 92–95). It seems that cinematic representation of space is a central element of Puiu's films, as he creates in every case an unusual embodied perceptual experience of space and spectatorship. After the theoretical examination of such terms as perception, film's body, point of view, depth-of-space and frame, Puiu's two latest films will undergo a phenomenologically grounded interpretation.
References
Ferencz-Flatz, C. (2013). Aurora: Elements from an Analysis of Misunderstanding. Close Up: Film and Media Studies, Vol. 1.(No. 1.), 32–42.
Filimon, M. (2017). Cristi Puiu. Urbana: University of Illinois Press.
Gaudin, A. (2015). L' espace cinématographique: esthétique et dramaturgie. (M. Marie, Ed.). Paris: Armand Colin.
Raviv, O. (2016). The Cinematic Point of View: Thinking Film with Merleau-Ponty. Studia Phaenomenologica, (XVI), 163–183.
Zsolt Gyenge works as Assistant Professor at the Moholy-Nagy University of Art and Design (Budapest, Hungary) since 2007, where he teaches courses in film theory, film history and visual communication theory. His field of research includes interpretation theories (phenomenology, hermeneutics), experimental film, video art and Romanian Cinema. His book entitled Image, Moving Image, Interpretation: A Theory of Phenomenological Film Analysis will be published in summer 2017. He is the editor of the scholarly journal on design and visual culture, Disegno, and is member of the international research project Space-ing Otherness, Cultural Images of Space, Contact Zones in Contemporary Hungarian and Romanian Film and Literature. He is also active as freelance film critic.
GYŐRI Zsolt
University of Debrecen, Hungary
Gangsters, the Patriarchy, and Paternalism in Hungarian and Romanian Cinema
Post-socialist Eastern Europe has experienced a rapid rise in crime related violence and the emergence of organized crime associated with businessman who occupied the grey zone between illegal machinations and lawful conduct. This added another layer of moral crisis to societies emerging from the dark legacy of state socialism. I regard EE gangster and crime related films as symptomatic of citizens' attempt to come to terms with this new social reality. The cinemas of the region have presented criminals differently: while Hungarian cinema along with the Polish saw a rise in gangster films and comedies, Romanian cinema tackled the issue through social dramas that rely on the stylistic achievements of the Romanian New Wave.
My proposed talk concentrates on representations of masculinity in selected titles – Argo 1-2 (Attila Árpa 2004, 2015), Nosedive and Black Soup (Erik Novák, 2007), Stuff and Dough (Cristi Puiu. 2001), Outbond (Bogdan George Apetri, 2010). My main concern is the hierarchic relationship between the fathers' and the son's generations, the post-Soviet new man who employ the services of the youth to their own benefits. Based on man studies and social sciences I argue for a close resemblance between patriarchal forms of masculinity and the post-socialism social model founded on paternalism and clientelism.
References
Elsaesser, Thomas. European Cinema Face to Face with Hollywood. Amsterdam: Amsterdam University Press, 2005.
Hadas Miklós. "A demaszkulinizáció folyamata." Educatio 2016/4. pp. 527–537.
Mason, Fran. American Gangster Cinema. From Little Caesar to Pulp Fiction. New York: Palgrave, 2002.
Pop, Doru. "The Grammar of the New Romanian Cinema." Acta Univ. Sapientiae, Film 
and Media Studies 3 (2010): 19–40.
Zsolt Győri is a Senior Lecturer at the Institute English and American Studies, University of Debrecen, Hungary. His research focuses on British and Eastern European, mainly Hungarian cinema and the connective structure of cinema, ideology, and society. Apart from four books in Hungarian, more recently he co-edited Travelling around Cultures: Collected Essays on Literature and Art with CSP, organized the international conference 'Popular Music in Eastern Europe', and serves as associate editor of the Hungarian Journal of English and American Studies.
HARTFORD, Jason
University of Chester, UK
"Discursive Borderlands in Socialist Poland: Adapting Prosper Mérimée and the Queer Horrors of Lokis (Janusz Majewski, 1970)."
This talk addresses the adaptation of the 1869 novella "Lokis", by Prosper Mérimée, as a feature-length film in Poland in 1970 by Janusz Majewski. The question is one of adapting a French literary work in the Poland of Gomułka's "Small Stabilization". A foreign literary adaptation would have been 'safe' material, notwithstanding Mérimée's anti-authoritarian politics. A second concern, also deriving from adaptation, is the film's relation to the horror genre: what is recognized to be repressed and what is 'missing'. The figure of the werebear is a foil for the postcolonial exotic, as both film and novella are set in the kresy — the Polish borderlands of Lithuania. In Majewski's film, the Gothic motif of monstrosity works to evoke and help mourn not the outsider werebear, Michał Szemioth, but a lost heteronationalist Romantic ideal, the tragic Polish noblesse. The third main focus is how sexual queerness is displaced and repressed through the process of adaptation.
References
Jagielski, Sebastian. 2016. "Queer Fantasies: the Camp Prince, the Diva, and Polish Cinema in the Interwar Period." Studies in European Cinema.
Mazierska, Ewa, Lars Kristensen and Eva Näripea, eds. 2013. Postcolonial Approaches to Eastern European Cinema: Portraying Neighbours Onscreen. London: I. B. Tauris.
Sprenger, Scott. 2009. "Mérimée's Literary Anthropology: Residual Sacrality and Marital Violence in "Lokis"". Anthropoetics: the Journal of Generative Anthropology 14. N. pag.
Jason Hartford is a lecturer in French at the University of Chester, UK. He works on French and Belgian media, including transnational productions and adaptations, through a cognitive humanities and queer theoretical lens. His most recent articles have been on François Ozon's horror fantasy Ricky (France, 2009), based on an English short story, and on Bavo Defurne's romance Noordzee, Texas (Belgium, 2011) based on a Dutch novel. He has published expertise in genre theory (horror), cinema after 1968, discourses of science, Christian iconography, European queer theory, and modern French and Belgian fiction. His current research concerns Polish exiles in the French film industry. [103 words]
JABLONCZAY Tímea
King Sigismund University, Hungary
Diasporic memory and narratives of displacement in Erzsi Senesh's postwar literary works
Erzsi Senesh (1902, Rajec -1981, Jerusalem) as a well-known and respected author in interwar Hungary, was one of the greatest talents of Czechoslovakian-Hungarian literature; as a Holocaust survivor moved to Israel in 1949, until her death in 1981 lived in Jerusalem and wrote her memoirs, short novels, reflections in Israeli-Hungarian journal, Új Kelet. However after the war her name and her works have fallen into oblivion in Hungary. In my lecture I will focus on her memorial texts written in Israel from the 1950s to the 1970s (I have a Home Country (Van hazám, 1956, 1959); docu-short-stories in Új Kelet). These texts can be examined as autobiographical and testimonial records related to the experience of the Holocaust and previous past. These texts also recall the treatment of Hungarian Jews or Jews living in Czechoslovakia and Hungary before, during and after the Holocaust tends to establish connections to her Jewish heritage by narrating the community's story and her lost home and past. Within a complex field of investigation concerning Senesh this lecture aims to examine her postwar memories as testimonial accounts producing a bridge between present and past, centre and margin in sharing her experiences of multiple dislocations. These texts can be posited within immigrant writing along with diasporic consciousness in which the memory of traumatic event and the notion of imagined homeland as construction are emphasized. These postwar memories provide a multi-directional dialogue with Israel and the world of the Diaspora by presenting the construction of authorial and textual identity as the interlinkage of personal and historical process as one of transition.  To examine and represent Senesh's works I will apply literary studies on migration, diaspora and memory from transnational perspective (based on among others works of Susan Stanford Friedman, Azade Seyhan, Stephen Clingman, William Q. Boelhower).
References
The Wound of the Body. [A test sebe] In: Gábor Schein, Teri Szűcs (ed): "Zsidó" identitásmintázatok a 20. századi magyar irodalomban. ["Jewish" Identity Patterns in the 20th century Hungarian literature] Eötvös Kiadó, Bp., 2013. 55-66.
Nation, Sexuality and Gender in Literary Representations of Ilona Zrinyi. (English version) In: Hungarian Studies Review 2014, 1-2, 13-33.
Marginality and Cross-Border Treatment. The intersections of identity in the texts of Erzsi Szenes. In: TnTef 2014/2, 18-36. http://tntefjournal.hu/vol4/iss2/jablonczay.pdf
Transnationalism in Practice. Immigrational Processes in the Geography of Books, Writing, Genres and Transnational Strategies [Transznacionalizmus a gyakorlatban: migrációs praxisok a könyvek, az írásmódok, a műfajok és a fordítási stratégiák       geográfiájában. In: Helikon 2015/2, 137-156.
Tímea Jablonczay, PhD has published on narratology (co-edited volume Narratívák 6. Narratív beágyazás és reflexivitás [Narratives 6. Reflexivity and Embedded Narratives], Pécs, Kijárat, 2007). Her current researches focus on representational practices of different identities, diasporic experiences, complex identity patterns in literary and cultural texts within the framework of transnationalism. She also explores the representations of Holocaust, especially the female remembrance of Holocaust. Her several articles were published in academic literary journals (edited volume Helikon 2015/2. Transnational Perspectives in Literary Studies, or Filológiai Közlöny, New Narratology, 2006/1-2.) She gives conference lectures and presentations at many conferences in Hungary and at international conferences (Ghent, Nitra, Ceu, Bologna) As an associate professor at King Sigismund University (from 2010) she teaches gender studies, identity discourses, visual and intercultural communication and critical cultural studies in different levels (BA and MA). She is also interested in Holocaust remembrance through education.
JAKAB Villő Hanga
Independent researcher, Romania
Acts of Demarginalizing in Young Adult Literature
Young adult literature can be perceived as a particular medium of society that emerges due to social, cultural, scientific and economic changes: the notion itself presupposes the engendering of the political category of 'young adults'. In the focus of my current project there are four pieces of young adult fiction (Kriszta Bódis: Carlo Párizsban [Carlo in Paris], Mária Halasi: Az utolsó padban [Sitting in the Last Bench], Katarina Taikon: Katica [Katica], Krisztina Tóth: A lány, aki nem beszélt [The Girl Who Did Not Speak]), each of them elaborating on the social condition of young Roma people. The works I contextualize reflect on current social issues. By setting up narrative (public) spaces for socially, economically, culturally, sexually or ethnically suppressed and marginalized groups each four of the pieces of fiction attempt to compensate and offset the lack or deficiency of their political representation. The aforementioned works constitute contact zone both due to their poetics and their sociopolitical embeddedness: on one hand, they reflect on current social-political changes, on the other hand, they have emancipatory potential as long as they emphasize the empowering effects of literature, that of strengthening the sense of social responsibility and solidarity, the interpersonal relationships and the need for belonging.
References
Freire, Paulo: The Pedagogy of the Oppressed. The Continuum International Publishing Group, New York, 2005.
Michael Cart: Young Adult Literature: From Romance to Realism. American Library Association, Chicago, 2010.
Boris Groys: A demokrácia művészete [The Art of Democracy]. Forrás: http://ujnautilus.info/demokracia-muveszete
Sári B. László: A hattyú és a görény. Kritikai vázlatok irodalomra és politikára [The Swan and the Polecat. Critical Drafts on Literature and Politics], Pesti Kalligram, 2006.
Villő Hanga Jakab during her BA and MA courses was mainly interested in the phenomena of contemporary literature, but after finishing her studies she started to work as a teacher, therefore, she became much preoccupied by the relationship of contemporary fiction and pedagogy. Her teaching practice, which she rather conceived as an experiment, took place on the confines of the Romanian countryside. Thus, how literature might become a contact zone for children with different social, cultural and financial background and how it might help them understand the condition of others and of their own, became the more acute question to her. On a blog titled Dombok mögött ('Behind the Hills') she wrote on her personal and professional experience of the compulsory education system. On the track of her teaching experience, her PhD-thesis concentrates on marginalized groups of young adults and inquires the emancipatory potentials of literature.
KALMÁR György
University of Debrecen, Hungary
Migrant Masculinities and Global Homelessness in Refuge England (Robert Vas, 1959)
My presentation analyses the 1959 British-Hungarian short docu-fiction film Refuge England by the Hungarian-born documentary filmmaker Robert Vas in the context of such issues as migration, displacement, connectivity, masculinity and the failure of the dream of modernity. The 25 minutes long film starred Molnár Tibor, one of the most well-known Hungarian actors of the time (who also fled communism and tried his luck in the west). Refuge England, which was presented at the last Free Cinema screening programme in March 1959, recaps the first day in London of the filmmaker Vas, who left Hungary after the 1956 uprising. The film shows his arrival, aimless wanderings in London, the first impressions, emotional reactions, philosophical reflections and fantasies of a refugee urban flaneur (without any money or English) "in the centre of the world", together with his more and more desperate attempts to find his way to Love Lane 25, the address he has written on a back of a photo of a woman and a child. The film shows the intellectual and emotional responses of a dislocated, vulnerable man, in a setting that radically redefines his former identity, through poetic, sensuous, affect-laden images. In my presentation I situate Vas's work as an early example of migrant cinema, and analyse it in the light of contemporary documentary films about identity and the changing notions of masculinity in a quickly transforming, multi-ethnic Europe.
References
Berger, Maurice (et.al. eds.) Construcing Masculinity. New York: Routledge, 1995.
Berghahn, Daniela and Claudia Sternberg (eds.) European Cinema in Motion. Basingstoke and New York: Palgrave Macmillan, 2010.
György Kalmár is reader at the Department of British Studies of the Institute of English and American Studies, University of Debrecen (DE), Hungary. He graduated at DE in 1997, his majors were Hungarian and English. He worked as a post-graduate researcher and visiting scholar at the University of Oxford in Great Britain and at the University of Indiana in Bloomington. He gained a PhD in philosophy (2003) and one in English (2007) at DE. His main teaching and research areas include literary and cultural theory, contemporary Hungarian film, gender studies, and British literature. He has published extensively in the above mentioned fields. He is the author of over forty articles and four books, the most recent one being Constructions of Maculiity in Post-Communist Hungarian Cinema: Labyrinthian Men (Palgrave-Macmillan, 2017, forthcoming). He is the editor of the book series ZOOM.
KIRÁLY Hajnal
Eötvös Loránd University, Hungary
The Text of Muteness in Contemporary Hungarian and Romanian Family (melo)dramas
Despite stylistical differences stemming from different representational traditions, contemporary Hungarian and Romanian cinemas show a striking similarity in their preference for family (melo)dramas. In function of the correlation between stylistical and emotional excess, these films can be classified as dramas or melodramas, sometimes even balancing on the verge of soap operas (the case of some Romanian films), although never fully matching the formal requirements of this latter. Admitting, with Christine Gledhill, that melodrama is not only a type of aesthetic practice but also a way of viewing the world (Gledhill 20), I argue that a comparative, formal analysis of films by Hungarian directors Kornél Mundruczó, Ágnes Kocsis and Szabolcs Hajdu, as well as Romanian directors Radu Jude, Radu Muntean and Cristi Puiu, can prove very helpful in identifying and interpreting the historical-ideological and cultural implications of generational and gender issues. As Thomas Elsaesser points out, historically the popularity of melodrama seems to coincide with periods of intense social and ideological crisis that is interiorised and personalised by the melodramatic characters and represented as problems of style and articulation (Elsaesser 45). In my presentation viewing the work of directors from a middle generation (socialised during communism and started a carreer after 2000) I regard these melodramas as an expressive code that sublimates the dramatic, generational and gender-related conflict into décor, gesture, composition, acting style or diegetic music. I will especially focus on the text of muteness (that is, nonverbal, visual, aural, stylistic excess) generated by situations of inaction and passivity, taking place in claustrophobic blockhouse apartments: a typical post-communist space where acute generational and gender role conflicts surface "by displaced emphasis, by substitute acts, by parallel situations and metaphoric connections" (Elsaesser 59).
References
Elsaesser, Thomas. 1990. Tales of Sound and Fury. Observations on Family Melodramas. In Christine Gledhill (ed.): Home is Where the Heart Is. BFI Publishing, 43-69.
Gledhill, Christine. 1990. The Melodramatic Field: An Investigation. In Christine Gledhill (ed.): Home is Where the Heart Is. BFI Publishing, 43-69.
Rogozanu, Costi. 2014. Muntean. Cronicarul României middle class. In Andrei Gorzo and Andrei State (eds.): Politicile Filmului. Contribuții la interpretarea cinemaului românesc contemporan. Cluj-Napoca: Tact, 89-98.
Rus, Andrei. 2014. Farsele macabre ale lui Radu Jude. In Andrei Gorzo and Andrei State (eds.): Politicile Filmului. Contribuții la interpretarea cinemaului românesc contemporan. Cluj-Napoca: Tact, 119-128.
Hajnal Király is a researcher at the Institute of Hungarian Literature and Cultural Studies, Eötvös Loránd University of Budapest. She is member of a project on Cultural Images of Space in Contemporary Hungarian and Romanian Film and Literature. Her present research interests focus on cultural-theoretical approaches to contemporary Hungarian and Romanian cinema, as well as interferences between intermediality and the concepts of 'figural' and 'figuration'. She has published a book in Hungarian on adaptation theory and several articles on Hungarian and Romanian cinema, as well as the cinematic intermediality, in volumes edited by Ágnes Pethő, Lars Elleström, Anne Gjelsvik (with Jürgen Bruhn and Eirik Fritsvold Hansen) and Ewa Mazierska (with Matilda Mroz and Elzbieta Ostrowska).
KRÁNICZ Bence
Eötvös Loránd University of Budapest, Hungary
Humans No More – Postsocialist Hungary as Apocalyptic Site
The paper aims to reconstruct how certain concepts of the nonhuman turn appear in contemporary Hungarian film and literature. The scientifically-informed aesthetics of the anthropocene examines, among others, how nature grows as an increasingly independent agent (Bruno Latour) in art, while humanity irreversibly loses control. The blind or melancholic fear of apocalypse inspired mainstream genre cinema as well as underground artistic movements.
Péter Lichter's debut feature film Frozen May (2017) is rooted both in genre and avant-garde, anthropocentrism and anthropocene, referential and non-referential, historic and ahistoric, thus proving to be an eminent example of the nonhuman turn in progress. The paper focuses on the dychotomic structure of Lichter's film, and finds its connections both with Hungarian cinema and literature. Thus the images of universal apocalypse, witnessed in Béla Tarr's (and László Krasznahorkai's) films of late modernism, make way to posthuman, hybrid literature. Due to its local historical-cultural references and concept of 'alternative regime change', the paper will examine Attila Veres's debut novel Odakint sötétebb [Darker Outside] and its aesthetic goals shared with those of Frozen May.
References
Floquet, Pierre: Melancholia and the Apocalypse Within. In: Karen A. Ritzenhoff – Angela Krewani (eds.): The Apocalypse in Film. Maryland, Rowman & Littlefield, 2016. 91–104.
Kohn, Eduardo: How Forests Think. Toward an Anthropology Beyond the Human. Berkeley – Los Angeles, University of California Press, 2013.
Latour, Bruno: Agency at the Time of the Anthropocene. New Literary History, 2014, Vol. 45. 1–18.
Bence Kránicz (1991) is a Ph. D. student of the Film, Media and Contemporary Culture Doctoral Program at Eötvös Loránd University of Budapest. His research interests are in early Hungarian film criticism and contemporary fantastical genre cinema. He works as a journalist, his writings on film and literature recently appeared in Filmvilág, Prizma and Magyar Narancs.
MARGITHÁZI Beja
Eötvös Loránd University, Hungary
The Post-witness as Translator: Animating the Archive as Memory Work in two East-European Documentaries (Regina, Aliyah DaDa)
The growing temporal distance does not seem to discourage the scholar and artistic research of recent social-cultural traumas and forgotten historical episodes. In cinematic elaborations the act of remembering often appears as a detective work, sometimes even excavation, a journey to past venues, emblematic locations or 'home', as recent Holocaust-related feature films [e.g. Aftermath (Pasikowski, 2012) and Ida (Pawlikowski, 2013)] or personal documentaries summon [e.g. No Home Movie (Ackerman, 2015) or Bogdan's Journey (Jaskulski–Loewinger, 2016)].
Third generation woman directors Diána Groó (Hungary) and Oana Giurgiu (Romania) are not specialized in documentaries, their career is devoted mostly to directing (Groó) or producing (Giurgiu) successful feature films. Although discovering the story of Regina Jonas (1902-1944) the world's first woman rabbi (the main character of Groó's documentary, Regina, 2013), and following the fate of Romanian Jews from the first 19th century aliyah (main topic of Giurgiu's Aliyah DaDa, 2015), Groó and Giurgiu appear to act as 'embodied translators' (Kaplan, 2008) in a postmemory (Hirsch, 2001) era, at the edge of a post-witness (Assmann, 2015) situation; they travel through 'contact zones' (Pratt, 2007) in their research for the circumstances of past traumatic stories, and this journey leads through public and personal archives, visual and written documents, testimonies and witnesses, often facing memory gaps and missing links. I am interested in the process of 'translation' (Brownlie, 2016) by which Groó and Giurgiu perform their cinematic memory work, the filmic, aural and visual techniques wherewith they frame, quote, adopt, enhance and animate their personal and archival sources, and point out the transnational character of their subject, shaped by migration, resistance and segregation.
References
Assmann, Aleida (2015) Transformations of Holocaust memory. Frames of transmission and mediation. In: Bayer, Gerd – Kobrynskyy, Oleksandr eds.: Holocaust Cinema in the Twenty-First Century: Images, Memory, and the Ethics of Representation. Columbia UP. 23-40.
Brownlie, Siobhan (2016) Mapping Memory in Translation. Springer.
Glajar, Valentina (2011) Framing the Silence: The Romanian Jewish and Romani Holocaust in Filmic Representations. Local History, Transnational Memory in the Romanian Holocaust. Palgrave Macmillan US. 225-249.
Hirsch, Marianne (2001) Surviving images: Holocaust photographs and the work of postmemory. The Yale Journal of Criticism, 14(1), 5-37.
Beja Margitházi is assistant professor at the Department of Film Studies, Eötvös Loránd University (Budapest, Hungary). Her research interests include interferences between film and visual culture, contemporary film (analog-digital nostalgia, trauma and memory) and post-communist Hungarian cinema. She is the author of the book The Cinema of the Face. Close-up and Film Style (in Hungarian, 2008) and editor of the reader Visual Communication (In Hungarian, with Ágnes Blaskó, 2010). Her studies, critical essays and translations were published in different Hungarian and English language anthologies, periodicals and magazines. She has been a co-founder and editor of Transylvanian film portal www.filmtett.ro since 2002.
MELNIC, Diana – MELNIC, Vlad
Babeș-Bolyai University, Romania
Identity in Play: Representations of Eastern Europe in Video Games
Shifting towards the 21st century, video games have become both one of the most popular forms of entertainment and a novel, yet already prolific topic of academic research. With this premise in mind, the chief aim of the present paper is to investigate the transition of East European identities into the new media of expression and its generated digital worlds. Our working hypothesis is that, although the East European context of 20th century political and ideological conflict serves as the background to numerous titles, predominantly in the genres of first-person shooter and real-time strategy, its specificity is somewhat lost in translation. Surprisingly, it is those video games that focus on the mythological past of Eastern Europe, some of which we discuss in our paper, that achieve a more faithful, less polarizing depiction of the cultural diversity characterizing the region in spite of its shared experience of totalitarianism and war.
References
Dixon-Kennedy, Mike. Encyclopedia of Russian & Slavic Myth and Legend. ABC-CLIO, 1998.
Frucht, Richard (ed.). Eastern Europe: An Introduction to the People, Lands, and Culture. ABC-CLIO, 2004. 3 vols.
Wolf, Mark J.P., and Bernard Perron, editors. The Routledge Companion to Video Game Studies. Routledge, 2014.
Diana Melnic studies Irish literature at the Faculty of Letters, Babeș-Bolyai University, Cluj-Napoca, Romania. She is a graduate of English literature and comparative literature whose bachelor's thesis focused on the ethics of alterity in Julian Barnes' 2013 Levels of Life.  Her research interests include contemporary Irish and British fiction, digital humanities and game philology.
Vlad Melnic is currently reading Irish literature at Babeș-Bolyai University, Cluj-Napoca. He studied English and comparative literature at an undergraduate level and his BA thesis focused on narrative embodiment in Salman Rushdie's 2008 novel The Enchantress of Florence. His passion for storytelling and video games have steered him towards cultural studies and digital humanities.
MIHALACHE, Alina Gabriela
University of Bucharest, Romania
Re-Enacting Political History in the Era of the Postdramatic
Ever since its first representation on stage, Ionesco's play Rhinoceros became a mirror to the anxieties haunting the societies that it was held up to. Back in the 1960s, it would symbolize Neo-Fascism and Far-Right dangers in the Western countries, while subversively pointing at Communism and Far-Left ideologies in the Central-East European cultures. The text's versatility was highly praised by the literary and theatrical criticism, and allowed for its re-enactment in shows and films produced over the globe, in the most diverse social-political contexts. This paper is focused on the most recent masterpiece, as unanimously acclaimed by international reviewers: Robert Wilson's Rhinoceros, put on stage at the National Theatre "Marin Sorescu" of Craiova (2014). On the one hand, the American director, as a leading representative of what Hans-Thies Lehmann labeled the postdramatic theatre, put on stage an "inner space" conceived as a "unity in diversity", where all languages meet and compete, from the verbal to the visual and the musical. On the other hand, the artist had to engage in a dialogue with a public pertaining to a different social-political background. The iconic image of actors / characters fitted as cogs in the massive, de-humanized installation of the stage production can stand for different interpretations. We finally aim to look into how postmodern performing arts can address political dramas and traumas of the global era, in a democratic mix of semiotic systems and cultural references, from high to low, from literature to dance, from circus to silent movies.
References
Ackerman, Alan & Puchner, Martin: Against the Theatre, Palgrave McMillan, 2006.
Lamont, C. Rosette: Ionesco`s Imperatives. The Politics of Culture, Ann Erbor, University of Michigan Press, 1996.
Lichte, Erika-Fischer: The Transformative Power of Performance, Routledge, London &New York, 2008.
Alina Gabriela Mihalache is an Assoc. Lecturer at the University of Bucharest, Faculty of Letters, Master program "Society, Multimedia, Performance", and a PhD in Literature at the University of Bucharest. He authored the book Eugen Ionescu / Eugene Ionesco. From Surrealism to the Postdramatic (2016), as well as dozens of articles in scientific and cultural magazines.
Modoc, Emanuel
Babeș-Bolyai University, Romania
Transnational Dialogues between Romanian and Hungarian Historical Avant-gardes. A case study
The present proposal addresses the idea that, rather than comparing the different materializations of East-Central European literature with Western literature, one should turn his attention to the neighbouring literatures. The historical avant-garde represents an important case in this respect, with some relevant applications to Romanian and Hungarian avant-gardes. The presence of Jewish writers, the existence of several catalysing cultural centres (France, Germany), and the occurrences of spatial displacements of authors from within these two avant-gardes (from Romania: Tristan Tzara, Ilarie Voronca, B. Fundoianu, Gherasim Luca, from Hungaria: József Csáky, Alfréd Réth, Valéria Dénes, Sándor Galimberti), as well as ideological affinities are factors that have consolidated a form of interliterary relationship between the two avant-gardes that could provide a very strong case study in regards to the transnational dialogues between the two countries in question. The historical avant-gardes from East-Central Europe can thus provide a much more transparent analysis of the interliterary relationships from within this space.
References
Bojtár, Endre: East European avant-garde literature, Budapest, Akadémiai Kiadó, 1992.
Passuth, Krisztina : Avantgarde kapcsolatok Prágától Bukarestig: 1907-1930, Budapest, Balassi Kiadó, 1998.
Cornis-Pope, Marcel, John Neubauer (ed.): History of the Literary Cultures of East-Central Europe. Junctures and Disjunctures in the 19th and 20th Centuries, vol. I-IV, Philadelphia, John Benjamins Publishing Company, 2004-2010.
Emanuel Modoc is a PhD candidate for the Department of Comparative and Universal Literature at the Faculty of Letters, Babeș-Bolyai University, Cluj-Napoca. His research interests include the avant-garde of East-Central Europe and contemporary Romanian literature, literary theory and criticism. He is a regular contributor at Romanian literary magazines such as "Cultura", "Vatra", "Apostrof", "Poesis International" and "Tribuna", where he publishes reviews and articles on Romanian contemporary literature and literary criticism.
NAGY Kristóf
Artpool Art Research Centre, Hungary
Criticizing Transition: György Krassó's performative populism in the crossroad of Hungarian and British artistic activism
In my presentation I will analyse the actions of the Hungarian dissident intellectual, György Krassó, performed in Budapest in 1989-'90. I will argue that by actions, Krassó went beyond the discursive nature of local politics, and acted in the contact zone between political and artistic approaches to performativity, in which he was fundamentally influenced by some figures of the 1980s' Hungarian art scene. Moreover, Krassó's actions were also in the transnational contact zone of Hungarian dissident culture and the Anti-Thatcherite protest culture, which he met during his exile in London between from 1985. In this paper I will examine how these encounters fostered the formation of Krassó's politics that I define as leftist populism. This performative populism remained unsuccessful, but was not only able to offer an alternative to state-socialism and to the emerging local capitalism, but also to the dichotomy of self-colonizing emancipation and colonial narcissism, which were the two dominant symbolic strategies of the Eastern European transition.
References
Gagyi, Ágnes: "Coloniality of Power" in East Central Europe: External Penetration as Internal Force in Post-Socialist Hungarian Politics. Journal of World-Systems Research Vol. 22, Issue 2, pp. 349-372.
Laclau, Ernesto: On Populist Reason, Verso Books, 2005.
Nagy, Kristóf: Aesthetics and politics of ressentiment: the Inconnu Group's shift towards national populism, MA Thesis, Central European University, 2016.
Kristóf Nagy is an art historian at the Artpool Art Research Center in Budapest. He completed an MA in Eastern European Alternative Art at The Courtauld Institute of Art in 2015, and an MA in Sociology and Social Anthropology at the Central European University in 2016. His researches are primarily focusing on the intersections of the artistic and the social in the post-war Eastern Europe, and he presented them in several conferences, such as Eastern Europe in Global Perspective in Lublin, AAH in Norwich and IKT in Vienna.
PIELDNER Judit
Sapientia Hungarian University of Transylvania, Romania
Black-and-White Memories of the Past, Intermediality and Female Identity in Contemporary Polish and Czech Cinema
The paper addresses the aesthetics of black-and-white filmmaking in the digital age, with special attention to the ways in which the black-and-white image turns up as a place suspended between the analog and the digital, the photographic and the cinematic, motion and stasis, action and emotion, flow and rupture in contemporary East Central European films. Through examples taken from the palette of contemporary Polish and Czech cinema, displaying various generic affiliations and patterns of female identity in formation, female trauma, guilt and history, time and cultural memory, such as Hi, Tereska! (Robert Glinski, 2001), Reverse (Borys Lankosz, 2009), Ida (Pawel Pawlikowski, 2013), Papusza (Joanna Kos-Krauze and Krzysztof Krauze, 2013) and I, Olga Hepnarová (Tomas Weinreb and Petr Kazda, 2016), the paper examines the distinct uses and stylistic potential of the black-and-white image, allowing for subtle ways of deviating from mainstream cinema and entering the realm of affective perception. The paper proposes to discuss the role of intermediality in the current trend of black-and-white filmmaking, with emphasis on intermedial figurations (tableau shots, photo-filmic images), trying to demonstrate that the apparent understatement carried along by visual archaization gives way to an excess of cinematic perception, calling forth the "pensive spectator" (Bellour) through "crystal images of time" (Deleuze).
References
Bellour, Raymond. 2007. The Pensive Spectator. In The Cinematic, ed. David Campany, 119–123. Cambridge, Massachusetts: The MIT Press.
Dixon, Winston Wheeler. 2015. Black&White Cinema. A Short History. New Brunswick and New Jersey: Rutgers University Press.
Pethő, Ágnes. 2016. Figurations of the Photofilmic: Stillness versus Motion—Stillness in Motion. In The Photofilmic. Entangled Images in Contemporary Art and Visual Culture, eds. Brianne Cohen and Alexander Streitberger. Leuven University Press.
Streitberger, Alexander and Hilde Van Gelder. 2010. Photo-Filmic Images in Contemporary Visual Culture. Philosophy of Photography vol. 1 no. 1: 48–53.
Sutton, Damian. 2009. Photography, Cinema, Memory. The Crystal Image of Time. Minneapolis and London: University of Minnesota Press.
Judit Pieldner, PhD, is Associate Professor at Sapientia Hungarian University of Transylvania, Department of Humanities, Miercurea Ciuc, Romania. Her research interests are related to intermediality, experimental cinema and screen adaptation. She has published several articles on film and literature, she has contributed to the volumes Words and Images on the Screen: Language, Literature, Moving Pictures (2008), Film in the Post-Media Age (2012) and The Cinema of Sensations (2015), edited by Ágnes Pethő and published by Cambridge Scholars Publishing. She is co-editor of the volume Discourses of Space (Cambridge Scholars Publishing, 2013) and executive editor of the journal Acta Universitatis Sapientiae, Philologica.
Poenar, Horea
Babeș-Bolyai University, Romania
The New Musselman. Figures on the Threshold, Ethics of the Contact Zones and The Renewed Possibility of History
The paper will open several avenues for research and reflection by revisiting Marian Crișan's Morgen, Tarr Bela's Werckmeister Harmonies and Jean-Luc Godard's Notre musique. The key element will be the figure of the refugee as a figure-on-the-threshold that enacts essential transformations inside a community. Its contemporary position as the new musselman (Primo
Levi's definition) redistributes the way history and identities can be defined. The way a society falls into fascism upon a traumatic intrusion (as the whale in Tarr Bela's movie), the ruins of violence and their challenge to ethics and especially the passages and the contact zones will lead us to the concept of concrete universality and the possibility of a renewed belief in the possibility of history.
References
Giorgio Agamben, Remnants of Auschwitz: The Witness and the Archive, Zone Books, 1999.
Water Benjamin, The Arcades Project, Harvard University Press, Harvard, 1999.
Jacques Rancière, Le Destin des images, la Fabrique, Paris, 2003.
Horea Poenar is Associate Professor at the Faculty of Letters in Cluj-Napoca where he teaches literary theory, aesthetics and critical theory. He has a PhD in Aesthetics obtained in 2005 with a thesis on Concepts of phenomenological aesthetics. He has published four books, co-authored several others and published hundreds of studies, essays and articles in various literary and academic journals.
POP, Doru
Babeș-Bolyai University, Romania
Competing Waves. Cultural and Aesthetic Similarities between Recent Romanian and Hungarian Cinemas
This paper is discussing the impact of the Romanian films of directors like Cristi Puiu, Cristian Mungiu or Corneliu Porumboiu on their counterparts in the region. By placing a focus on Hungarian authors like Károly Ujj Mészáros, Kornel Mundruczo or Nemes László, the author asks the question of cinematic dialogue between the two cinema cultures. Can we talk about a Central and East European cinema style, or can we identify a shared film tradition of regional cinemas (when it comes to Romania and Hungary). Another aspect would be the discussion of cultural strategies in the two countries, and how did these impact the development of their particular film industry, film consumption and film reception. The EU integration of the two countries has created similar problems, with dissimilar solutions. The cultural similarities and the transition from a homogenized cinema of the Socialist era lead to transformations that have influenced the two cultural environments. Is there a "Romanian style" of making movies opposed to a "Hungarian way" to film art? Finally the paper addresses the issues of cultural identity and aesthetic specificity, manifested in cinema-making practices. Do the Romanian film makers tell different stories, or the recent movies showing that there are related tropes and shared imaginaries?
References
Anikó Imre (ed.). A Companion to Eastern European Cinemas. Chichester: John Wiley & Sons, 2012
Kaplan, E. A. Trauma Culture: The Politics of Terror and Loss in Media and Literature. Piscataway: Rutgers University Press, 2005
Kilbourn, R. J. Cinema, Memory, Modernity: The Representation of Memory from the Art Film to Transnational Cinema. London: Routledge, 2010.
Radovic ́, M. Transnational Cinema and Ideology: Representing Religion, Identity and Cultural Myths. New York: Routledge 2014
Doru Pop is professor at the Faculty of Theater and Television,  the Babes Bolyai University in Cluj. Master's Degree in Journalism and Communication by Chapel Hill University, North Carolina, in 2002, and a Doctorate in Philosophy by the Babes Bolyai University in 2003, having defended a thesis on the philosophy of visual culture. He was a Fulbright and Ron Brown scholarship student in 1995-96 and 2000-2002, and taught a course on Romanian film at Bard College, New York, in 2012 and visiting professor at Columbus State University, 2017. His most recent book is Romanian New Wave Cinema (McFarland, 2014).
POPA, Diana
University of St. Andrews, UK
The cinematic Landscape of Bucharest in Contemporary Romanian Cinema
Cristi Puiu stated that The Death of Mr Lazarescu (2005) is part of a series entitled Six Stories from the Bucharest Suburbs. In this paper, I want to look at the cinematic landscape of Bucharest, a post-communist and a European city (officially confirmed by Romania's accession to the EU in 2007), in order to expand an understanding of representations of urban landscape in film in relation to changing historical and filmmaking circumstances.
This paper examines the role and place of the landscape in Cristi Puiu's films in the context of, on one hand, the significance of landscape in communist Eastern European cinema (Yvette Biró 1990) and, on the other hand, of landscape as autonomous and independent from narrative concerns (Martin Lefebvre 2011). While the uninviting landscape of Bucharest displays similarities and differences from both, I want to show that it is also contributes to achieving a distinct aesthetics of slowness.
References
Biró, Yvette (1990) 'Landscape after Battle: Films from "the other Europe"' in 'Eastern Europe…Central Europe…Europe', Daedalus 119 no. 1 (Winter 1990): 161-182
Cummins, Mark (2006) 'A Painful Case: A conversation with Cristi Puiu, a director under the influence' in Film Comment [Online]. Available at: http://www.filmcomment.com/article/a-painful-case-cristi-puiu-interviewed
Lefebvre, Martin (2011) 'On Landscape in Narrative Cinema' in Canadian Journal of Film Studies 20:1, pp 61-78.
Diana Popa is a PhD student at the University of St Andrews at the department of Film Studies. Her research explores the aesthetics of slowness in film, as it has developed in contemporary and, more specifically, Romanian cinema.
RÁKAI Orsolya
Hungarian Academy of Sciences
"Der Balkan beginnt am Rennweg" – Traces of Climate Theory in Post-Colonial Descriptions of East-West Dichotomy in Central Europe
The Rennweg, where the author of this famous bon mot, Prince Metternich had a palace, is, of course, in Vienna. But Vienna is the capital of the "First Western Country", and was considered as the gate of the West – from the perspective of the former "Eastern Bloc". Why and how has the "Balkan" got such a negative connotation, that "Balkanization" became even a quasi-political term? Where are these constantly moving borders between East and West in Central Europe?
To track down the complex problems of such descriptions and self-identificatory discourses could be useful to recall the climate theory of Enlightenment (based on antique theoretical origins), as it was used explicitely for political legitimization not only in the 18th century, but also in 19th and 20th centuries, and its remnants can be detected even in today's migration discourses. Climate theory, although half forgotten, played a central role in defining the strange "outside" of modern West, of civilization, of "us".
References
Fogalomfosszíliák, identitáskövületek: A transznacionális poétika lehetőségei az individuális, a kollektív és az idegen metszeteinek újragondolásában: HELIKON Irodalomtudományi Szemle 61:(2) pp. 233-242. (2015)
Korporális narratológia és idegenség: Egy kontextuális narratológia továbbgondolása: Irodalomismeret online (1) pp. 30-39. (2015)
Orsolya Rákai is Senior Research Fellow at the Department of Modern Literature, Institute for Literary Studies, Hungarian Academy of Sciences. Her main research interests are: the history of media and literary criticism, social integration of literature, gender studies. Recently, she deals mostly with corporeal narratology and its adaptations for the research of strangeness.
SÁGHY Miklós
University of Szeged, Hungary
Holocaust representations in the Hungarian films of the 2000s (with special focus on 1945 by Ferenc Török)
My paper focuses on Ferenc Török's 1945, a film released in 2017, based on Gábor Szántó T's short story. I investigate the novelties of 1945 as compared to other Hungarian filmic holocaust representations in the 2000s. Firstly, I briefly examine the kinds of similarities it has –at least in its topic– with Fateless (Lajos Koltai, 2005; based on the Nobel-prize winner novel, Fateless by Imre Kertész) and the Academy Award winner Son of Saul (László Nemes, 2015). Secondly, I analyse in detail the originalities 1945 brought into the holocaust representation in Hungarian film. I suggest these originalities are twofold. On the one hand,   the film exclusively focuses on the aftermath of the holocaust in Hungarian society instead of the holocaust experience itself (deportation, KZ-lager). Due to the change of focus, this story doesn't take place in a KZ-lager, but in a Hungarian village to where two Jewish survivors arrive back right after World War II. Beside the elaborate analysis of the film's novelties, I would like to examine what kind of similarities can be found in the Holocaust representations of 1945 and other Holocaust depictions in Hungarian and international film art.
References
Vincze, Teréz: The Phenomenology of Trauma. Sound and Haptic Sensuality in Son of Saul. In Acta Universitatis Sapientiae. Film and Media Studies 13. (2016) 107–126.
Gelencsér, Gábor: Magyar film és a holokauszt. Láthatatlan történet [Hungarian film and the Holocaust. Invisible stories]. In Filmvilág 2014/10. http://www.filmvilag.hu/xista_frame.php?cikk_id=11921
Sághy, Miklós: A Sorstalanság Hollywoodba megy [Fateless goes to Hollywood] (Kertész Imre: Sorstalanság, Koltai Lajos: Sorstalanság)". In Tiszatáj 2012/10. Diákmelléklet 20 p.
Miklos Sághy is an associate professor at the Department of Visual Culture and Literary Theory, University of Szeged, Hungary. His research interests are interrelations between film and literature, contemporary Hungarian film and literature, and media theories. His books are: The New Hungarian Lyrics. Critiques of Contemporary Poetry. (In Hungarian with Ákos Tóth), 2004; The Rhetoric of Light. The Role of Technical Images in the Works of Iván Mándy and Miklós Mészöly (In Hungarian), 2009; The Future of the Cinema in the Digital Age. Database or narrative? (E-book in Hungarian with Zoltán Dragon), 2012.
SÁNDOR Katalin
Babeș–Bolyai University, Hungary
Addressing Female Traumas of the Recent Past in Jasmila Žbanić's Films, Grbavica: The Land of My Dreams  (2006) and For Those Who Can Tell No Tales (2013)
The paper discusses cinematic modes of addressing the traumas of the recent Bosnian war in Jasmila Žbanić's films, Grbavica: The Land of My Dreams  (2006) and For Those Who Can Tell No Tales (2013). Trauma – as a sort of unlocalizable embodied memory that is not "formed through symbols and narratives" but is "closer to the nature of an injury" – is considered to "neutralize the habitual processes of symbolization and narrativization through which personal, family and cultural memories and identities are woven." (Broderick–Traverso 2011) The deferred, corporeal and unrepresentable aspect of trauma (cf. Hirsch 2004, Elsaesser 2001, Rutherford 2013) urging a revision of concepts of referentiality is recurrent in theoretical approaches dealing with cultural and artistic practices that address traumatic experiences. In cinema, the question of representing or bearing witness to trauma may point to a "crisis of indexicality" (Elsaesser, 2001) but at the same time may pose a challenge to films that confront the aporia of representing that which precludes representation. In such films, intermediality and media reflexivity may be symptomatic of this aporia. In Žbanić's two films one can observe medial displacements that expose the cinematic image in its opacity or in its fusions with other mediums (For Those Who Can Tell No Tales), as well as instances of addressing affect within trauma and memorialization (For Those Who Can Tell No Tales, Grbavica: The Land of My Dreams). All these seem to enact the aporia of representing the traumatic through the reflectivity of the sensible, through the materiality of the film itself.
References
Broderick, Mick and Traverso, Antonio. 2011. Interrogating trauma. Towards a critical trauma studies. In Interrogating Trauma. Collective Suffering in Global Arts and Media, eds. Mick Broderick and Antonio Traverso, 3–11. London and New York: Routledge.
Elsaesser, Thomas. 2001. Postmodernism as mourning work. Screen 42. 2: 193–201.
Jelača, Dijana. 2016. Dislocated Screen Memory. Narrating Trauma in Post-Yugoslav Cinema. Basingstoke, Hampshire: Palgrave Macmillan.
Katalin Sándor is Assistant Professor at Babeș–Bolyai University (Cluj-Napoca, Romania). Her research interests include theories of intermediality, intermediality in literature and film, contemporary Hungarian and Romanian cinema. Her first volume, Nyugtalanító írás/képek. A vizuális költészet intermedialitásáról [Unsettling Image/Texts: The Intermediality of Visual Poetry] appeared in 2011. She has published various articles both in Hungarian and English in periodicals and volumes of studies: e. g. Ágnes Pethő (ed.) The Cinema of Sensations, 2015, Ajtony, Zs. – Pieldner, J. (eds.) Discourses of Space. 2013, Elleström, L. (ed.): Media Borders, Multimodality and Intermediality. 2010.
Sălcudean, Ileana Nicoleta
Babes-Bolyai University, Romania
The Reconfiguration of European Film Festivals: Convergence and Network. (Case Study: Transilvania International Film Festival)​
The international film festivals are nevertheless "inherently linked to societal and cultural concerns" (Elsaesser 2005, 27). The new morphology of film festivals brings a new light on film festivals and the theory of culture, especially with the new reconfiguration of festivals in Europe, the insertion of new technologies and new opportunities to create networks.
The research approach is defined at the intersection of cultural studies, sociology of culture and cultural anthropology, seeking a new vocabulary of film culture in the new socio-political context. In terms of cultural studies I analyze the social and political context of creative industries (mainly film production); an important contribution of cultural studies and sociology of culture refers to the tension between citizenship and consumerism. From the point of view of cultural anthropology, I analyze the new film festival rendering the distinction space/ place; mapping/ tracking (Elsaesser, 2004, pp. 185-188) replacing universal/ particular; local/ global, following contemporary approaches of convergence and network as more efficient in the globalization context. European film festivals shift away from the stereotyped category of nation and auteur as connected to Europe towards the global economy and the city (Valck, 2007, p. 30). The case study of Transilvania International Film Festival is bringing forth questions regarding the Western European vs. Eastern European film festival models and how are the Eastern and Central European festivals incorporating the traits of the Western European film festival.
References
Elsaesser, Thomas (2013). "ImpersoNations: National Cinema, Historical Imaginaries and New Cinema Europe", Mise au Point, Le cinéma européen et les langues.
Roderick, Conway Morris. (2003). "Venice Film Fest Living Up to Projections", International Herald Tribune 3:7.
Cresswell, Tim and Dixon, Deborah (eds.) (2002). Engaging Film. Geographies of Mobility and Identity, USA: Rowman and Littlefield Publishers, USA.
De Valck, Marijke (2007). Film Festivals: From European Geopolitics to Global Cinephilia, Amsterdam: Amsterdam University Press.
Ileana Nicoleta Sălcudean is curently a lecturer at Babeș-Bolyai University, Cluj-Napoca, in the Department of Cinema and Media Studies, Theatre and Television Faculty. She holds a PhD in sociology with the thesis Cultural Policies and Identiy Constructions in the European Context.
Her spheres of interest are: cultural studies, sociology of culture, creative industries.
Recent Publications: "Outrunning the Past: European Influences in Building Cultural Policies in Romania and the Role of the Romanian Cultural Institute", The Journal of Arts Management, Law, and Society, 2016, 46:5, pp. 255-273; "The Convergent Motions of the Social Dimension and the Cultural Dimension. National and European Blueprints", Studia Europaea, 60/ 2015, pp. 109-134; "Sexuality in Comedy. Controversy and Clichés", Ekphrasis 14, 2015, pp 136-150; "Creative Industries – Art and Commerce; Entrepreneurship and Creativity", Ekphrasis 13, 2015, pp. 10-25; "New Aesthetics and New Technologies: Global Challenges to the Future of Cultural Organizations and Management", Ekphrasis 11, 1/, 2014, pp. 225.233; "Art and Vandalism. Crossbreeding of Street Art: (re) Interpretation of Street Art from Sociological, Aesthetical and Interactivity Perspectives ", Journal of Media Research, Volume 5, Issue 1 (12)/ 2012, pp. 45-60″ etc. Books: Cultural Policies: from Bucharest to Brussels, Risoprint, 2016; Handbook of Creative Writing, co-author, PUC, 2014; `Social` and `Cultural` in the European Context, Risoprint, 2013.
STRAUSZ László
Eötvös Loránd University, Hungary
Canonical Bodies – Acting, Authorship and Transtextuality in the New Romanian Cinema
New Romanian cinema can be approached as a distinct acting style of a fairly steady crew of performative agents. In my presentation I will study transtextual authorship in the select films through the evolving roles of performers such as Luminița Gheorghiu, Mimi Brănescu and Bogdan Dumitrache, who have each appeared in multiple critically acclaimed films. The presentation will aim at demonstrating how the work of the actors can be interpreted as a palimpsestic text, which reveals its connection to, builds on and continues earlier performances, and thereby contributes to the canon of this contemporary national cinema.
References
Dyer, Richard. Heavenly Bodies: Film Stars and Society. New York: Routledge, 2003
Genette, Gérard. The architext: an introduction. Berkeley: University of California Press, 1992.
Strausz, László. Hesitant Histories on the Romanian Screen. London: Palgrave, 2017. Forthcoming.
László Strausz is an Assistant Professor of film studies at Eötvös Loránd University (ELTE) in Budapest. His work focuses on contemporary East-Central European screen media, cultural memory, and the politics of film style.
STŐHR Lóránt
University of Theatre and Film Art, Hungary
Homecoming to the Lost Home. Hungarian Holocaust Documentaries before and After 1989
Travel is the inherent motif of the Holocaust literature and cinema. The survival's return to the place of her suffering and / or to her birthplace from where she was deported and expelled is the central element in the plot of many documentaries. In my paper, I analyze Hungarian documentaries that represent the survivor protagonist's return to her lost home. Homecoming poses different challenges to the survivor (or her descendants) and the community of her birthplace. The former must face, what Jean Améry calls, the homelessness of holocaust survivors, the latter, that is, the contemporary Hungarian society confronts itself with the suppressed guilt. Through the comparison of works from the early 80s (The Visit, 1982), 90s (Elie Wiesel Goes Home, 1996), and 2000s (There Was Once…, 2011), I point both at the different filmmaking methods and strategies determined partly by the politics of memory of Holocaust, and the psychological consequences of time elapsed since the traumatic event.
References
Wilson, Thomas M. – Hastings Donnan (eds): A Companion to Border Studies. Wiley-Blackwell, 2012.
Vila, Pablo: Crossing Borders, Reinforcing Borders: social categories, metaphors, and narrative identities on the U.S.-Mexico frontier. Austin, University of Texas Press, 2000.
Egry Gábor: Otthonosság és idegenség. Identitáspolitika és nemzetfelfogás Magyarországon a rendszerváltás óta. Budapest, Napvilág, 2010.
Lóránt Stőhr (1974) is an associate professor at the University of Theatre and Film Art in Budapest. His research interests are in melodrama, documentary, and contemporary Hungarian cinema. His book on film melodrama (Bitter Tears) was published in 2014. He has published essays in books (Words and Images on the Screen; Film in the Post-Media Age) and in Hungarian film magazines (Filmvilág, Metropolis, Apertúra, Filmkultúra). He writes film critics regularly for a Hungarian weekly paper, "Élet és Irodalom" ("Life and Literature").
SZABÓ Éva
University of Debrecen, Hungary
From Womb to Tomb in the Circus: Mothers, Children and the Circus in Aglaja
In Krisztina Deák's 2012 film, Aglaja women's breath-taking tricks are put in the spotlight. I intend to read this circus as the reversal of Foucault's Panopticon where one person is in the focus and the audience watch her, imprisoning her in her space. Here only feminine attractions seem to be valuable, like that of the "Flygirl" or the "Woman with Steel Hair"; while injured female children are dressed as boys on stage because they lost their value as commodities. In my paper I examine how the circus is constructed as a feminine space, as it gives birth to gendered children but it can also take life away or reverse the traditional binary gender roles, blurring the boundaries between the body of the mother and the space of the circus. I will rely on the spatial concepts of Michael Foucault, Martina Löw and circus theories by Petra Tait and Paul Bouissac.
References
Bouissac, Paul. Circus as Multimodal Discourse Performance, Meaning, and Ritual. London: Bloomsbury, 2012. Print.
Foucault, Michel. Discipline and Punish: The Birth of the Prison. London: Penguin, 1991. Print.
Löw, Martina. "The Constitution of Space: The Structuration of Spaces through the Simultaneity of Effect and Perception." European Journal of Social Theory 11.1 (2008): 25-49. Web.
Petra Tait. Circus Bodies: Cultural Identity in Aerial Performance. London and New York: Routledge, 2005. Print.
Éva Szabó is a PhD student of the British Studies stream at the Doctoral School of Literature, University of Debrecen. Her field of research is neodomesticity in contemporary British women writers' fiction but her research interests also include food studies, feeding and nourishment in contemporary women writers' fiction as well as mother-daughter relationships. In her dissertation she works with the texts of Kate Atkinson, Elizabeth Taylor, Ali Smith and Anita Brookner. The last conference she attended was the HUSSE conference in Eger in January 2017.
SZŰCS Teri
RomArchive – Digital Archive of the Roma, Budapest, Hungary
The Multiple Ends of Solidarity in Hungary – and the Interventions of Literature
In his enlightening book, The Defeat of Solidarity. Anger and Politics in Postcommunist Europe (Cornell 2005) David Ost traces back the contemporary right wing-populist trends of the V4 countries to the time of the transition(s), when these countries either distanced their new political agendas from their leftist-unionist roots (see Ost's main example, the role and history of Solidarność in Poland), or they failed to establish the institutions of workers' representation in the process of the transition (as in Hungary for example). According to Ost, the voice of the workers' unions, the syndicalist anger was considered as a populist phenomenon two and a half decades ago.
Solidarity, the basic agency of a society is built on self-representation and the understanding of interconnectedness of its constituting groups and members. Instead of (re-)establishing the empowering contexts of self-representation, our societies created a pool for the institutions in charge of solidarity: that of the NGOs. The NGOs – overseeing the conditions of women, Roma, homeless etc. – became the advocates of various oppressed groups. According to Ost, we can perceive this moment as one of the terminations of solidarity in our region: as long as the NGOs are advocating, the rest of the majority society does not need to deal with the intertwined fates and conditions of its members.
Another attempt to end solidarity in Hungary is happening right now, as the government is determined to make the functioning of these NGOs impossible. This means that the last of the organizations devoted to advocating for minorities are in peril in our country. The Hungarian government is set to kill off the liberal phenomenon of agencies for promoing civil rights, and it does not offer any other means for developing overarching societal solidarity. Rather, it upholds exclusion, protectivism, radical chauvinism.
What are the chances of art in a time when we experience multiple ends of solidarity in our society? In the last part of my presentation I would like to talk about the volume of poetry by Szilárd Borbély, titled To the Body – A Testhez (Kalligram 2010), that is devoted to the possibilities and anomalies of radical solidarity and emphathy.
References
Borbély Szilárd: A Testhez. Pesti Kalligram, Bp.-Pozsony, 2015
Butler, Judith: Notes towards a Performative Theory of Agency. Harvard UP, Cambridge MA – London, 2015.
Ost, David: The Defeat of Solidarity. Anger and Politics in Postcommunist Europe. Cornell, Ithaca-London, 2005.
Teri Szűcs is a literary historian, critic, independent researcher. She gained her PhD in 2009 at Eötvös Loránd University, Budapest. Her research focuses on the literature of the Holocaust, and Hungarian Romani literature. She is the author of The History of Forgetting – The Witness of the Holocaust in Literary Works (A felejtés története – A holokauszt tanúsága irodalmi művekben) and editor of the volume titled Representations of Jewish Identities in Twentieth Century Hungarian Literature (Zsidó identitásképek a huszadik századi magyar irodalomban). Szűcs is the member of the research group titled Space-ing Otherness. Cultural Images of Space, Contact Zones in Contemporary Hungarian and Romanian Film and Literature (Eötvös Loránd University). She is a lecturer at Corvinus University, assistant professor at Eötvös Loránd University. She was the advisor of the Exhibition "The Remembrance of the Holocaust in Literature" at the Petőfi Literary Museum, Budapest, 2014. Szűcs is the coordinator of the Visual Art Section of RomArchive – Digital Archive of the Roma.
URECZKY Eszter
University of Debrecen, Hungary
The Crisis of Care―Precarious Bodies in Wellness-Dystopia Films
Several recent films have problematized the medical-psychological aspects of the contemporary Western culture of wellness and healthism: Youth (Paolo Sorrentino, 2015), A Cure for Wellness (Gore Verbinski, 2016) and Scarred Hearts (Radu Jude, 2016) are set in closed institutions designed to rejuvenate and heal their patients/guests. The protective but at the same time claustrophobic microcosm of the sanatorium/hotel appears as a carefully monitored, safely contained counter-space of external risks. It seems that the Foucauldian disappearance of the "sick man" and the emergence of the patient are followed by the birth of the wellness guest in an increasingly medicalized, disciplined and normalized world. The films thus depict the extreme end of the transition from Enlightenment-era bedside medicine to hospital medicine, the biopolitical paradigm of contemporary somatocracy under the aegis of care. Based on these arguments, the paper identifies the films as wellness-dystopias as they melancholically or grotesquely criticize the 21st-century dilemmas of health/disease, normality/pathology and youth/ageing. The presentation examines the three films as depictions of the contemporary "crisis of care", theorized by John Protevi, Jerry Bridges, Susan S. Phillips and Patricia Benner, among others, and reads the institutionalized patients as precarious bodies by relying on the notion of precarity outlined by Judith Butler and Isobell Lorey as the existential condition of today's Western societies. Similarly to Thomas Mann's The Magic Mountain (1924), the literary monument of the interwar period's escapism from accelerated modernist production into the pathology of slow-paced consumption, the chosen films create ambiguously protected cinematic spaces to criticize the universal precarity of late-modernity and to question the current regime of care. As Jean Baudrillard warns in The Agony of Power: "We are not succumbing to oppression or exploitation, but to profusion and unconditional care […] Now you must fight against everything that wants to help you".
References
Baudrillard, Jean. The Agony of Power. Trans. Ames Hodges. Los Angeles: Semiotext(e), 2010.
Lorey, Isabell. State of Insecurity: Government of the Precarious. Trans. Aileen Derieg.
London, New York: Verso, 2015.
Protevi, John. Political Affect: Connecting the Social and the Somatic. Minneapolis, London:
University of Minnesota Press, 2009.
Eszter Ureczky is junior lecturer at the Department of British Studies of the Institute of English and American Studies, University of Debrecen, Hungary. She is a PhD student of the doctoral programme in British Studies at the same university. Her main teaching and research areas include contemporary British fiction, especially the representation of epidemic disease in fiction and film, the medical humanities, biopolitics, and food studies. Her recent publications include "Cleanliness as Godliness: Cholera and Victorian Filth in Matthew Kneale's Sweet Thamess" in Travelling Around Cultures: Collected Essays on Literature and Art (Newcastle upon Tyne: Cambridge Scholars Publishing, 2016) and "Post-bodies in Hungarian Cinema: Forgotten Bodies and Spaces in Ágnes Kocsis's Pál Adrienn" in Cultural Studies Approaches in the Study of Eastern European Cinema Spaces, Bodies, Memories (Newcastle upon Tyne: Cambridge Scholars Publishing. 2016). She has written other articles and reviews on literature and film for Műút, HJEAS, Prizma, Alföld, Studia Litteraria, European Literature Network and Hungarian Literature Online.
Vallasek Júlia
Babeș-Bolyai University, Romania
Memories of Contact Zones in Contemporary Hungarian Novels
The First World War and its socio-political consequences brought major changes not only in the Eastern- and Central European political scenery, but also in the everyday life of the individual. My essay offers an outline of the way the memory of the I WW induced political and social changes are reflected and reimagined in 21st century Hungarian prose.
The research focuses on the main topics associated with the political changes as they are perceived by the individual as a unique personal experience. Two of these topics are the body representations, especially the interpretation of the mutilated body of the veteran soldier varying on a scale between rejection and acceptance and the female emancipation and self representation. The novels by Magda Szabó, Andrea Tompa and Gábor Vida, all written and published after 2000, offer a reconstructive, reimaginative and thus interpreted prespective of the contact zones of First World War-period.
References
Szabó Magda: Für Elise, Magvető, 2002.
Tompa Andrea: Fejtől s lábtól: Kettő orvos Erdélyben, Kalligram, 2013.
Vida Gábor: Ahol az ő lelke, Magvető, Budapest, 2013.
Bányai Éva: Fordulat-próza. Átmenet-narratívák a kortárs magyar irodalomban. EME, 2016.
Júlia Vallasek is an associate professor at Babes-Bolyai University, College of Political, Administrative and Communication Sciences. Her main research fields are: 2oth century history of the press, 20th century literature, construction of alterity etc.
Contributor of several cultural and literary reviews as critic and translator of several volumes.
VARGA Balázs
Eötvös Loránd University of Budapest, Hungary
Wastelands. Negotiating Social (B)orders in Contemporary Eastern European Crime Cinema
The proposed paper aims at discussing the dymanics of politics of location and the work of social imagination in recent Eastern European crime thrillers. It will analyse the signifying functions and (trans)national practices of special rural spaces (desolated, abandoned neighbourhoods, post-socialist 'wastelands') and spectacular natural landscapes (which often associated with national imagery and identity). Thus 'border crossings' will be examined both as transgressions of social and moral norms, and as spatial actions and transformations. With the help of visual-textual analysis the paper intends to examine the ways how these natural and rural landscapes are connected to the concepts of the 'other', and/or linked to transgression and (social and spatial) periphery.
References
Andersson, Johan – Webb, Lawrence (eds.): Global Cinematic Cities: New Landscapes of Film and Media. Wallflower Press, 2016
Fletcher, Lisa (ed.): Popular Fiction and Spatiality. Reading Genre Settings. New York: Palgrave Macmillan, 2016.
Melbye, David: Landscape Allegory in Cinema: From Wilderness to Wasteland. New York: Palgrave Mac­millan, 2010.
Balázs Varga is an Assistant Professor of Film Studies at Eötvös Loránd University, Budapest, Hungary. He writes and lectures on modern and contemporary Hungarian cinema, contemporary European cinema, production studies, popular cinemas and documentaries. He has been teaching in Hungarian higher education since 1997. From 1993 to 2007 he was employed by the Hungarian National Film Archives. He is a founding editor of Metropolis, a scholarly journal on film theory and history based in Budapest.  His recent research project has examined the post-communist transition of the Hungarian film industry. His current project focuses on popular East European cinemas. He has published several articles and essays in English, Italian, Polish, Czech and Hungarian books and journals. His recent book in Hungarian Filmrendszerváltások. A magyar film intézményeinek átalakulása 1990 – 2010 [Film regime changes. Transformations in Hungarian Film Industry 1990–2010] is brought out by L'Harmattan Publishers, Budapest.
VINCZE Teréz
Eötvös Loránd University, Hungary
East-European bodies, East-European spaces (Jan P. Matuszynski: The Last Family, Cristi Puiu: Sieranevada)
In 2016 two significant films hit the screens of international film festivals that could easily be labelled as "very" Eastern European. The Polish production, The Last Family by first time director Jan P. Matuszynski, and Sieranevada by renowned New Romanian Cinema auteur Cristi Puiu. Besides being strong statements about the memory of the socialist past, it seems obvious that both films use a very specific place/space in order to deliver their message – the limited space of socialist block of flats. I believe that these films could be analysed as eminent examples of the power spatial constructions can exert in meaning production while used in a systematic manner. In my presentation, I intend to demonstrate how the spatial conditions created by prefabricated living are used in these films as a certain container for the memory of (socialist) past; how the act of remembering becomes a characteristically space and body centred choreography of composition and editing in the course of cinematic meaning production. The similarities and differences between the style and plot of the two films also provide the opportunity to situate them in the (East) European and national trends of the cinematic remembering of the socialist past.
References
Burch, Noël: "Building a Haptic Space." In: Burch: Life to those Shadows (trans. Ben Brewster), London: BFI, 1990. pp. 162–185.
de Certeau, Michel: The Practice of Everyday Life. Berkeley: University of California Press, 1984.
Ditchev, Ivaylo: Communist urbanization and conditional citizenship. City: Analysis of Urban Trends, Culture, Theory, Policy, Action (2005) vol. 9 no. 3. pp. 341–354.
Gelencsér, Gábor: Panelkapcsolatok. A lakótelep-motívum a magyar filmben. In: N. Kovács, Tímea (ed.): Lakótelepek. A modernitás laboratóriumai. Budapest: Kijárat Kiadó, 2008.
Győri, Zsolt: Concrete Utopias: Discourses of Domestic Space in Hungarian Cinema. In: Virginás, Andrea (ed.): Cultural Studies Approaches in the Study of Eastern European Cinema. Cambridge Scholars Publishing, 2016. pp. 28–49.
Lefebvre, Henri: The Production of Space. (trans. Donald Nicholson-Smith), Oxford, UK–Cambridge, USA: Blackwell, 1991.
Susan E. Reid – David Crowley (eds.): Style and Socialism: Modernity and Material Culture in Post-War Eastern Europe. Oxford: Berg, 2000.
Teréz Vincze is assistant professor at the Department of Film Studies of Eötvös Loránd University, Budapest. Since 1999 she has been editor of the Hungarian quarterly journal of film theory and film history, Metropolis. She is also member of the editorial board of the Slovakian quarterly journal, Kino-Ikon. She has been teaching film studies at ELTE University since 2002, and received her PhD degree at the same university in Film Studies in 2009. She has been publishing articles about film and television history in English, Italian, Czech and Slovak in edited books and in film journals. Her first book (Author in the Mirror: Auteurism and Self-Reflexivity in Cinema) was published in 2013 in Hungarian. Her current research interests include the role of the body and bodily sensations in the cinema, spatial aspects of media studies, gender representation in film, and East Asian arthouse cinema.
Virginás Andrea
Sapientia Hungarian University of Transylvania, Romania
Disruptive mobilities: female characters and female filmmakers in an Eastern European diegetic and/or industry framework
In this presentation I link the analysis of a female character-type (the white-collar/intellectual woman) frequent in films related to postcommunist Eastern Europe to the analysis of female filmmakers active in several Eastern European cinemas, and partly responsible for the creation of some of analyzed characters. While in the first case I employ narratological and intermedial concepts, in the second case I present the results of a small research team that conducted life-path-interviews with the mentioned filmmakers from Romania and Hungary, while preparing a shadow-report of the EWA 2016 "Where are the women directors" in reference to Romania and Hungary. Geographical and social mobility, often out of necessity, even forced, thus possibly with long-lasting traumatic dimensions, is a common experience of both characters and filmmakers, and this might be linked to the aesthetic choices disrupting classical storytelling's opaque methods of representation.
References
Adey, Peter: Mobility. London and New York: Routledge, 2010.
Peters, John Durham. "Exile, Nomadism, and Diaspora: The Stakes of Mobility in the Western Canon." In: Hamid Naficy (szerk.), Home, Exile, Homeland: Film, Media and the Politics of Place. New York and London: Routledge, 2010, 17-44.
Silverman, Kaja. The Acoustic Mirror. The Female Voice in Psychoanalysis and Cinema, Bloomington: Indiana UP, 1998.
Andrea Virginás is Associate Professor in the Media Department of Sapientia University, Cluj-Napoca, Romania. Her research concerns film cultures in mainstream and peripheral contexts, focusing on film genres and production issues, as well as feminist film and cultural trauma theory. She has published in Acta Universitatis Sapientiae: Film and Media Studies, Alphaville–Journal of Film and Screen Media, Film-Philosophy, The Nordic Journal of Aesthetics, Scope, and Studies in Eastern European Cinema. Her most important volumes are Post/Modern Crime: From Agatha Christie to Palahniuk, from Film Noir to Memento (Saarbrücken: VDM Verlag, 2011), and The Use of Cultural Studies Approaches in the Study of Eastern European Cinema: Spaces, Bodies, Memories (Newcastle-upon-Tyne: Cambridge Scholars Publishing, 2016, editor).
ZÁGONI Balázs
Babeș-Bolyai University, Romania
Landscape after Revolution – Contemporary cinematic narratives of the Romanian and Hungarian revolutions
There were several political movements and protests in Central and Eastern Europe after the Second World War, but only Hungary and Romania had their own modern revolutions.
Though the two events had very different endings, both have been retold several times in cinematic stories, 2006 being the year with the highest number of such films produced.
I am focusing on two of them, one from each country: Children of Glory by Kriszta Goda and The Paper Will Be Blue by Radu Muntean.
Both films were produced in the same year, internationally acclaimed, and both were the second feature of their directors, who were almost the same age. By analizing the narrative structures and the cinematic reconstruction of history, I try to find out if there are any similarities or commonalities in the way in which these two filmmakers retell the story of their nation's most recent revolution?
References
Simuț, Andrei: Alternative Histories of the Communist Past: Typologies of Representation in the Romanian Film and Novel after 1989. Ekphrasys, issue 14. (2015/1) pp. 175-187
Pop, Doru: The Grammar of the New Romanian Cinema, Acta Univ. Sapientiae, Film and Media studies 3, (2010), pp 19-40
Varga, Anikó: Két dolog, ami kell. Goda Krisztina: Szabadság, szerelem. Filmtett, (2007/1).
Balázs Zágoni is one of the founders of Filmtett, a Cluj/Kolozsvár based film journal/portal and NGO for cinematic culture and education. He earned his DLA at the University of Theatre and Film Arts at Budapest in the year 2012 with a thesis on contemporary European and Hollywood screenwriting. He has over ninety articles on film and ten fiction books written for children. He is teaching screenwriting and film history at the Theatre and Film Department of Babes-Bolyai University. He lives in Cluj/Kolozsvár with his wife and three children.
ZSADÁNYI Edit
Eötvös Loránd University, Hungary
The narrative discourse of László Krasznahorkai's Sátántangó in light of the postcolonial subaltern
Analyzing the characteristic narrative discourse of László Krasznahorkai's Sátántangó, I wish to illustrate in my paper that the concept of the postcolonial subaltern created by Gayatri C. Spivak can be redeployed into the study of Hungarian literature addressing issues of marginalization and dictatorship. According to Gayatri C. Spivak's provocative and inspiring arguments, the subaltern cannot speak the language of the dominant discourse. Spivak convincingly claims that compassionate western intellectuals and politicians paradoxically assimilate and appropriate, thus silence the disempowered people by speaking on behalf of them. Political representation cannot guarantee that subordinate groups will be recognized or that their voices will be heard.
I wish to develop the argumentation precisely at this point and will illustrate that though the marginal and poor figures of the novel cannot speak in their own voice, they can speak in a special rhetorical narrative construction involving the reader's possible positions. Despite the fact that the entirety of Sátántangó unfolds from the viewpoint of the marginalized, the subaltern cannot speak in its own voice throughout the whole novel. The unique distribution of perspectival and narrative positions between the narrator and the characters can be interpreted as an indication of the problematics of being able to voice marginality. The narrator is the one who speaks, which means that it lends its narrative voice to those who do not have a voice of their own. Speaking between quotation marks, the characters can interrupt the continuous text of the narrator, but most of the time they are limited to short interjections. To the reader, the fragmented speech of the characters looks like stuttering, which further highlights the difficulties of articulation. When we look at the visual space of the text, it is striking how the coherent narrative text is interrupted by interjections and fragments placed in quotation marks. The subaltern characters can only stutter, thus the reader is invited to understand these voices as well as to reflect upon the problematics of representing the subaltern.
References
Chakrabarty, D. (2000) 'A Small History of Subaltern Studies', in H. Schwarz and S. Ray (eds.) A Companion to Postcolonial Studies, Malden, MA: Blackwell. 467–485.
Cherniavsky, Eva. (2011) 'The Canny Subaltern'. In. Jane Elliott and Derek Attridge (eds.) Theory after Theory, London: Routledge.149-162.
Prakash, G. (2000) 'Can the "Subaltern" Ride? A Reply to O'Hanlon and washbrook', in V. Chaturvedi (ed.) Mapping Subaltern Studies and the Postcolonial.  London: Verso. 220–238.
Spivak, Gayatri Charkravorty. (1988) 'Can the Subaltern Speak?' in C. Nelson and L. Grossberg (eds.) Marxism and the Interpretation of Culture, Urbana: University of Illinois Press. 271-313.
Edit Zsadányi is associate professor at the Cultural Studies Department of Eötvös Loránd  University of Budapest. She was senior lecturer at the Finno-Ugric Department of the University of Groningen from 2009 till 2014. Her fields of research are women writers in the 20th century, modern and postmodern Hungarian and American literature, with particular emphasis on Cultural Theory, Narrative Theories and Gender Studies. She is the author of four books, one published in English and three in Hungarian: Gendered Narrative Subjectivity: Some Hungarian and American Women Writers. Peter Lang Academic Publisher, Frankfurt am Main, 2015; A másik nő: A női szubjektivitás narratív alakzatai [The Other Woman: The Narrative Figures of Female Subjectivity], Budapest: Ráció, 2006. A csend retorikája: Kihagyásalakzatok vizsgálata huszadik századi regényekben [The Rhetorics of Silence: The Figures of Omission in Modernist Prose Fiction] Bratislava: Kalligram, 2001; Krasznahorkai László, Bratislava: Kalligram, 1999. She also co-edited the collections of essays: Gender Perspectives on Hungarian and Finnish Culture, Maastricht, 2011.
Contacts:
BÁTORI Anna anna.batori@gmx.net
BONÉ Ferenc arrgarrn@gmail.com
BLOS-JÁNI Melinda blosmelinda@gmail.com
Coroian-Goldiș, Andreea andreeacoroian@gmail.com
DÁNÉL Mónika d.mona7@gmail.com
Diamant, Cristina cristina.c.diamant@gmail.com
DUDKOVÁ, Jana janadudkova@gmail.com
DURYS, Elżbieta e.durys@gmail.com
FÁBICS Natália fabics@mome.hu
FELDMANN Fanni fannifeldmann@gmail.com
Firică, Ștefan stefanfirica@yahoo.com
GADÓ Flóra gadoflora@gmail.com
GOLDIȘ, Alex al3xgoldis@gmail.com
GOTT, Michael gottml@ucmail.uc.edu
GYENGE Zsolt zsengezsolt@yahoo.com
GYŐRI Zsolt gyori.zsolt@arts.unideb.hu
HARTFORD, Jason j.hartford@chester.ac.uk
JABLONCZAY Tímea jablonczay@gmail.com
JAKAB Villo Hanga jakab.hanga@gmail.com
KALMÁR György gykalmar@yahoo.com
KIRÁLY Hajnal hajnal.kiraly@gmail.com
KISSPÁL Szabolcs kisspal.sz@gmail.com
KRÁNICZ Bence kranicz.bence@gmail.com
MARGITHÁZI Beja margithazi.beja@gmail.com
MELNIC, Diana – MELNIC, Vlad diana.melnic3@yahoo.com
MIHALACHE, Alina Gabriela alina_g_mihalache@hotmail.com
Modoc, Emanuel ermodoc@gmail.com
NAGY Kristóf knagykristof@gmail.com
PETHŐ Ágnes petho.agnes@gmail.com
PIELNDER Judit juditpieldner@gmail.com
Poenar, Horea hflpoe@gmail.com
POP, Doru popdoru@gmail.com
POPA, Diana edp2@st-andrews.ac.uk
RÁKAI Orsolya rakai.orsolya@btk.mta.hu
SÁGHY Miklós saghy.miklos@gmail.com
SÁNDOR Katalin sandorkati17@gmail.com
Sălcudean, Ileana Nicoleta nicoleta.salcudean@gmail.com
STRAUSZ László laszlo.strausz@gmail.com
STŐHR Lóránt stohrlorant@gmail.com
SZABÓ Éva eve.taylor1122@gmail.com
SZŰCS Teri szucs.teri1@gmail.com
URECZKY Eszter ureczkyeszter@hotmail.com
URSA, Mihaela mihaelaursa@gmail.com
Vallasek Júlia vallasek@fspac.ro
VARGA Balázs vargabalazsbalazs@gmail.com
VINCZE Teréz vincze.terez@gmail.com
Virginás Andrea avirginas@gmail.com
ZÁGONI Balázs zagonibalazs@gmail.com
ZSADÁNYI Edit ezsadanyi@gmail.com